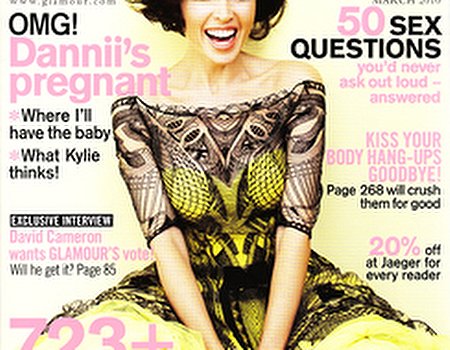 On the March 2010 cover of Glamour Magazine is Dannii Minogue. Oh Dannii, Dannii! What a gorgeous little kitten she is! I loved working with Dannii. I have worked with her sister Kylie many times, but this was the first time I had the pleasure to be with Dannii. She had just found out she was pregnant so we were all very excited and thrilled for her, and she was on her way home to Australia for Christmas - lucky thing!
Dannii has that bobbed dark hair and wonderful blue/green eyes that have exactly the same intensity as Elizabeth Taylor, so…yes you guessed…who better to inspire the look for this cover and inside pictures than the grand Dame herself?
The hair was so easy: backcomb, curl, give it lots of volume and poof…you have it! The face, I have to say, was just as easy! There is an extraordinary resemblance between the two beauties, Liz and Dannii. Both have great bone structure, fine nose, huge eyes, strong brows and a wonderfully full mouth – so first I made up the skin, which is a combination of great foundation, concealer and highlighter. A little bit of base at the end of your nose is no longer enough to get that perfect finished look, it takes a lot more work and products to achieve that!
What we need now is foundation - it has to be one that blends in well to your colouring and is the texture that suits your skin. As always, the better the skin, the lighter the texture. I dabbed this over her face and blended it well into the hairline and under the chin with my fingers. I prefer blending with fingers as I like the warmth and contact, but if you prefer using a sponge that is fine too. My favourite Prestige brands are Suqqu from Selfridges, a fabulous Japanese product with great textures, and Chanel foundations are also great colours and consistencies. For mass brands I like Myface and Jemma Kidd, both you can buy from Boots and both are excellent alternatives.
Next I used concealer just where it's needed, directly on pimples and blemishes and any red areas, like around the nose. I apply it with a brush and dab it with my finger until it's blended. A thick concealer is best for this – my new favourite being Vichy Dermablend Ultra-Corrective Foundation cream-stick. This product is designed to hide major scars and blemishes and there is also Dermablend Foundation, which is excellent for high coverage. Then, to highlight under the eyes and sculpt the cheek area I used a highlight pen. My favourite is still Guerlain or Dior – there is nothing to beat these two!
Ok, last steps.
Blush.....None! Keep the look wonderfully pale. If the face makeup is well applied, your skin will already look fantastic. Sweep shimmery powder over the entire face for luminosity and a glowing, fresh complexion. Now we move on to a dark smoky eye. It's all about black and dark browns and greys, with the intensity on the eye itself. Lots of dark shadow in the lid and into the socket is perfect, and a good palette to achieve this look is one from Dior – Night Dust No.790. Next, fill in the roots of the lashes with your favourite black pencil, Elizabeth Arden's smoky black, and then apply one coat of black mascara. Then apply gorgeous thick false lashes, but if you find this too difficult then just use single ones on the outside corners. Remember that the black pencil in the roots of the lashes will help to hide the glue…so go on…be brave and use an entire strip! Now use another coat of mascara to blend your own real lashes with the false ones.
Dannii's brows are strong anyway, so we didn't need to fill them in but if your brows are too thin or pale, fill them in using a dark brown powder (I recommend Laura Mercier Brow Powder colour duo), making a modern straight shape. Arched brows are very ageing, which we don't want!
Finally, the lips…go nude. Use your finger to press a sheer layer of concealer onto the lips and then top with a shimmer-free nude lipstick and a clear gloss.
There you have it. You too can look as adorable as Dannii Minogue!