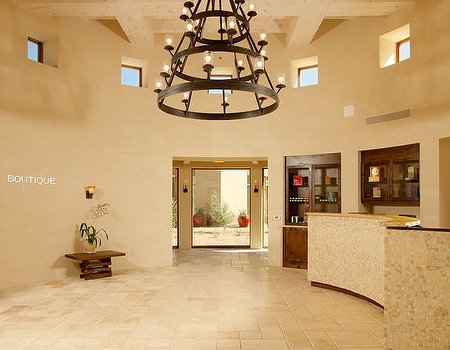 The circular Warming Room in the spa of Encantado – an Auberge Resort is an immediate statement that you are in the spiritual area of Santa Fe, New Mexico, a city celebrating its 400th anniversary in 2010. The Warming Room is the spa waiting room: it is circular, based on the kiva thinking places that have always been a feature of the Indian tribes of this part of the USA.
Inside the Warming Room, which is about 20 feet in diameter, is a real-log fire with a 200-year old Pueblo rug hanging over. Two of the small tables by relaxation chairs are solid columns of age-old Indonesian petrified wood. Designers Wilson & Associates have instilled so much history in this highly-modern, 65-room resort, which owners Canyon Equity opened September 2008 on the site of an earlier inn made most famous by a former owner, the one-time matriarch of Santa Fe, Colonel Betty Egan, 1919-1998.
The spa reception is another circular kiva, with a boutique leading off it that not only has blue jeans for every occasion but wear-anywhere gear that any shopaholic could not resist. Reiko, originally from Okinawa, Japan, does a mani-pedi as I look out, past orchids in pink pots, at the scrub hillside that I long to climb: she tells me how much she loves working in this serene place - and, indeed, she has come in specially on what should have been her day off.