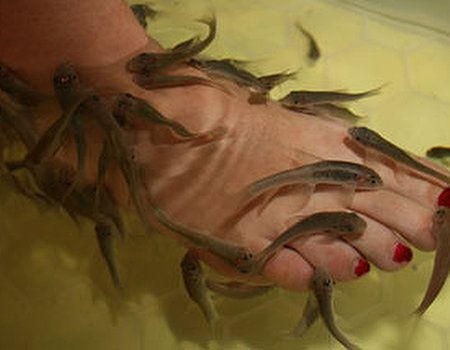 Wahanda were treated to a fishy surprise last week when we were given the privilege of experiencing the latest craze that has taken Eastern Europe and the US by storm - fish pedicures! The treatment uses the help of Garra Rufa fish to rid your feet of dead skin cells, leaving them smoother than a baby's bottom. So we trotted along to Camden's Wonda Fish to put it to the test.
The Venue
Located in the hip and happening Stables Market and Camden, London, Wonda Fish provides the latest must-have beauty treatment in a simplistic venue. Wonda Fish first brought the fishy feet treat to London's attention in February 2010, and ever since its opening, it has enjoyed a long and growing list of new and regular clients back to its tanks.
It may not be super glamorous but Wonda Fish manages to create a relaxing yet friendly atmosphere which put us at ease straight away. The staff were equally friendly and very helpful when answering all our questions about the little fishes and what they can do for our weary toes – so we knew what we were letting ourselves in for. The open nature of the venue even led to crowds of curious onlookers gathering at the stall to witness the unusual treatment- with many photographing the beauty fin-omenon...
The Treatment
The thought of dipping our feet into a tub full of exotic creatures all in the name of beauty left us feeling less than confident to start with. However, after being assured that the treatment would not be painful and that the fish were in fact toothless, we decided to take the plunge.
After washing our feet with a towel we were told to place our feet in the tub which was filled with water and, of course, the fishy therapists. The treatment consisted of the Garra Rufa fish lightly sucking away at the layers of dead skin on our feet for 30 minutes (but you have the option to stay for 15 minutes if you're in a hurry).
After the initial adjustment period to the weird tingling sensation, we were pleasantly surprised at how much we were enjoying the treatment - and we hoped the little swimmers were enjoying it too.
The result
A mere thirty minutes later we reluctantly ended the treatment which left our feet feeling smoother, softer and visibly improved. The treatment also left us feeling in a state of complete relaxation and we would definitely recommend it for an unusual twist on a classic pedicure.