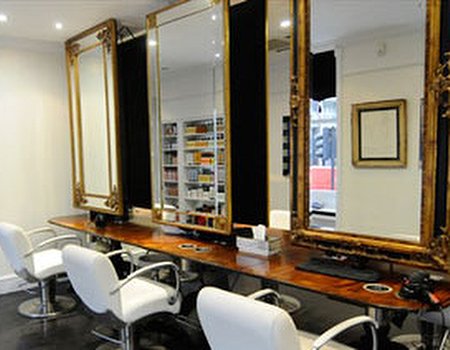 Things haven't been easy for former Hollyoaks actress Davinia Taylor, but the launch of her new salon, Taylor Made, proves that she's back on track. Five months pregnant and hosting a fabulous baby bump, she made a great impression on the Wahanda crew when we made our way down to the salon yesterday afternoon.
Forgetful as ever, the invitation had slipped our minds when choosing what to wear in the morning, so we rocked up to a celebrity salon launch in our cosy casuals. Oops. Thankfully though, Davinia was incredibly welcoming and down-to-earth, and not one person in the salon made us feel out of place.
That's one of the first things to note about Taylor Made – it's the type of place that you really feel comfortable in. The salon is all about creating a relaxed, personalised experience for the customer ('one-to-one', in the words of Lance Lowe, one of the hairdressers – who has incidentally just finished styling for Joe Casely-Heyford during LFW). Instead of flicking through the same tired magazines while you wait for your colour to take, you can curl up downstairs and watch an episode of Sex and the City – even dipping your toes into the Garra Rufa tank, if you're brave enough.
I opted for a complimentary blowdry (delivered to me by a particularly attractive Italian man named Rossano... never a bad thing), which actually succeeded in making my dry, wispy, cut-my-own-fringe-when-it-starts-growing-out hair look fresh and, dare I say it, glamorous. My colleague even got a bit of a trim along with her blowdry from Lance - who was an absolute perfectionist down to the last snip.
If you're partial to your hair extensions then this is a great place to visit if only to meet Lewis. Possibly the sweetest extensions specialist in the world, he's so passionate about what he does that you'll feel completely comfortable offering up your hair to his capable hands - and all the examples he showed us (even on Davinia herself) looked completely natural.
We were slightly surprised to find out that the "launch" party was actually happening months after the salon first opened, but we don't blame them – if it were us, we'd have a party there every week, just because it's a really fun place to spend an afternoon.
I'm determined to head back and get my hair thoroughly sorted out, as the dry shampoo they gave me isn't going to keep my blowdry looking good forever sadly - and I'd recommend you give them a try too.
For a full treatment list and to book an appointment, check out their profile on Wahanda – and make sure you let us know how it went by writing a review or tweeting @Wahanda.