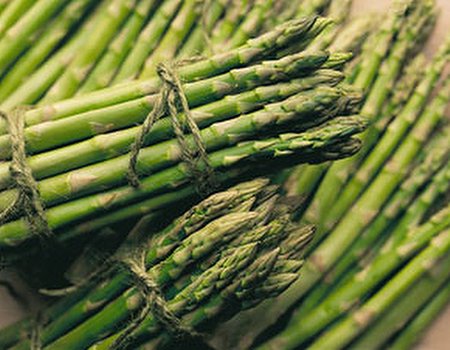 Welcome to asparagus central. Believe it or not, May was National Asparagus Month but due to the bad weather, these green stems are now at the peak of their season mid-June. Better late than never, it's the perfect time to celebrate our beloved vegetable by eating lots of delicious meals containing these great British spears. Full of potassium, vitamin B6 and folic acid which is vital for healthy blood cell formation, this low-sodium and low calorie vegetable is a super tasty way to eat up all your greens.
These young shoots are picked before they turn woody and blossom with flowers and berries - which are in fact poisonous to humans. Eaten and used in medicines by the Egyptians since around 3000 BC, this seasonal vegetable was loved by most of the ancient civilisations and now over 5,000 years later, we still can't get enough.
Whether you like to serve yours steamed as a side dish to meat and fish, chopped as part of a stir fry, or dipped into runny eggs for a simple nutritious breakfast, we can't find fault with asparagus. Rich in flavour and even richer in vitamins and minerals, especially skin-boosting proteins and selenium, this is a superfood that tastes great and is homegrown around the UK.
Once picked, lightly bend the asparagus spear to encourage it to break at its weakest part - letting the juicy flesh naturally snap itself away from the woody material. We like to steam it, or use the barbeque or griddle pan to lightly char the edges for a barbecued and smoky taste that's perfect as an accompaniment or as a vegetarian option. Finish with a drizzle of olive oil and sea salt, a dash of vinaigrette or a knob of butter for a simple and tasty treat. It looks pretty good too...