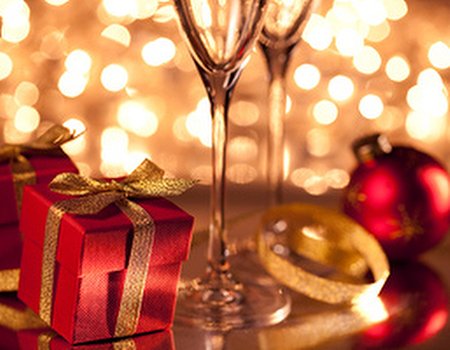 If you usually find yourself dreaming of a detox come January 2nd, this could be because of excess tox during the festive season. Yet festivities don't have to mean weight gain and feeling deflated - with these few simple strategies, this year, you may find yourself energised by the season of cheer and good will.
Cultivate meaningful relationships with people whose company truly uplifts you. In fact there is documented evidence that food eaten in an atmosphere of jovial conviviality and fun is not processed in the same way as food eaten out of boredom or while feeling out of place or stressed. If you have ever found yourself slimming without dieting from being in love then you know that this statement is true. Being in love can simply mean that you are remembering to verbalise to those around you that you love them. When better do that but at Christmas?
Don't drink alcohol on an empty stomach - this will have the immediate effect of lowering your self-awareness and sapping any will power you may have had about not stuffing yourself with the salted peanuts and crisps before you even get to sit down properly for the main meal.
Don't arrive at a party feeling hungry. It takes a good 20 minutes for the brain to register that you are full. If you are very hungry, 20 minutes can mean a lot of food eaten before you get any kind of signalling to stop.
Apply the principles of diminishing returns. If something tastes absolutely delicious when you start to eat it, the more you eat it, the less pleasure you will get out of it. Best to try a little bit of lots of different dishes and wines, focussing on the pleasure element from the initial discovery.
Don't skip breakfast just because you ate or drank too much the night before. Instead choose a healthy low sugar breakfast such as low sugar fruits (kiwi, grapefruit, grated apple, papaya, etc.) and bio yogurt with additional seeds, cinnamon and berries. Eat little and often throughout the day, avoiding grains/bread and aiming for a lot of (raw) vegetables and fruits. This will help the body to quickly process the alcohol and excess food. Get some exercise to start using up some of the additional energy.
Avoid fruit juices at parties. They are not the healthy option they are made out to be, but rather acidic, high in sugar and empty calories - at least dilute them. Water is the healthy alternative to alcohol and red wine is still the healthier alcoholic drink.
Avoid coffee, especially after a rich meal - it will only slow down digestion and contribute to free radical build up. Opt for a restorative herbal tea such as fennel, peppermint, lemon and ginger etc.
Drink a lot of water after drinking too much alcohol. This will help process it quicker and flush the poisons that lead to a hangover.
A colonic can help to sort out a temporary feeling of sluggishness and bloating caused by excess food and drink and a coffee colonic implant (enema) is still the quickest way to cure a hangover. For a colonic therapist near you, visit www.ipch.org.uk.
If, despite all this wisdom, you are still looking for a detox come January, Cleansing for Life (www.cleansingforlife.co.uk) will be offering spring detox programmes in the South of France from the 5th of May 2012.