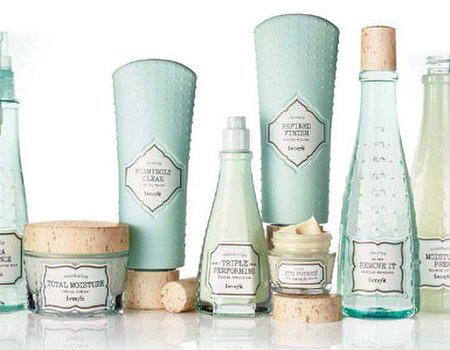 There was quite a scramble at Wahanda HQ when we were invited to enjoy a facial using Benefit's brand new b.right! skincare range. Thanks to Leanne and the team at Boots Oxford Street, the Wahanda ladies really enjoyed their skincare consultation trying out the new range and were talking about their refreshed skin for hours.
The Treatment
The facial started by using the oil-free Remove It Makeup Remover to take off any existing makeup, which left our skin feeling fresh before the treatment had even started! Suitable for contact lens wearers, the formula is kind to eyes too so it won't sting or irritate. Then our skin was gently exfoliated with the Refined Finish Facial Polish, which brightened our complexion and purified skin to minimise our pores (just what we like to hear!).
After exfoliation we tried the Triple Performing Facial Emulsion SPF 15, which hydrates, protects and comforts the skin thanks to its oil-free and lightweight formula. Our skin felt instantly soft and ready to battle the elements, as well as giving us the ideal glow - not greasy or flaky, just perfectly hydrated. A few drops of It's Potent Eye Cream gave those puffy peepers some life and helped fade the dark circles, then a smudge of Total Moisture Facial Cream on our neck made sure we weren't just looking after our face.
Once we'd pampered ourselves with makeup application and learnt all about the Benefit brand, the treatment finished with a spritz of the Ultra Radiance Face Re-Hydrating Mist, which set our makeup and gave our skin a brilliant final boost.
The Results
We felt like pampered princesses thanks to the lusciousness of the b.right! products. Each one smelt more delicious than the last and gave us such a brilliant glow, we couldn't help but grab all we could and head for the nearest till. We were pleased to hear the entire range contains nothing but natural ingredients, which work together to give your skin ultimate hydration. We really didn't want to ruin our now-beautiful skin by battling a polluted Oxford Street on the way back to the office, but the products proved tough and we still felt radiant and refreshed even when it was time to go home!