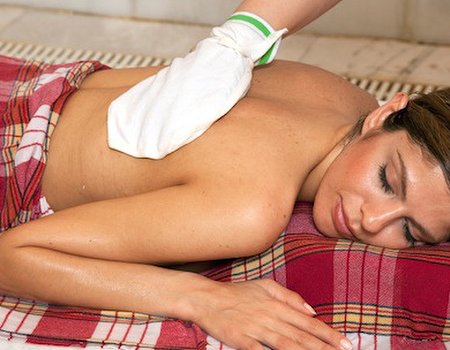 As the winter nights draw in and we start to wrap ourselves in bundles of scarves, hats, gloves and duffle coats, the chance to sit in a cosy steam room away from the bustle of Camberwell and enjoy an invigorating Turkish Bath was an offer too good to miss - so off we went to Pasha Beauty at Pasha Hotel London.
The Spa
The spa is tucked inside the hotel, through red-carpeted hallways to make you feel like a celebrity. Tucking into a Turkish tea, we learnt all about the origins of Hammam and the special black soap used to make your skin so soft, then were shown the marble steam room we'd soon be relaxing in. The changing room included a table decked out with fresh orange juice and cold water, in case we needed some refreshments at any point during the treatment.
The Turkish décor made us feel like we weren't in blustery South London at all and in fact, we almost forgot we had to catch the bus home!
The Treatment
After a quick change into our swimsuit we headed into the room and lay on the heated marble to adjust to the heat and open our pores. After a couple of minutes we opened our jar of black soap and began rubbing it all over our body, then waited for our therapist to arrive. The Hammam began by splashing water over our body to clean off the soap, then the therapist used a mitt to roughly exfoliate our skin. Starting with legs and all the way up to our face and neck, our entire body was scrubbed of dead skin lurking on the surface.
After the scrub finished more water was splashed over us, but with varying temperatures - which made us squeal! Then we giggled even more as we were covered in soft bubbles and given a shoulder massage to release some tension. To finish off the treatment we were covered in a thin layer of volcanic mud, which was left to soak in for a couple of minutes and then washed off with (yes, you guessed it) splashes of freezing cold water. This closed up our pores and we were left feeling utterly refreshed in the very warm steam room. Ahhh…
The Results
We weren't so keen on the freezing water, but after sitting in the marble room for so long it kept us refreshed and certainly revived us before heading out into a windy and rainy London. Our skin felt smooth and silky and we were complimented on our new glow thanks to the effects of the soap and steam.