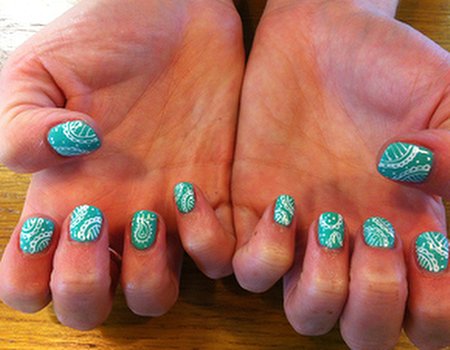 The summer heat wave might be over (for now at least) but I'm not about to let a few clouds dampen my spirit or affect my summer wardrobe. On the lookout for an easy way to brighten cloudy days - and compliment a summer ensemble - I decided to try out a bit of summer nail art. I'd heard great things about Kitsune Nails so popped along to try out one of their gel designs...
The Salon
Located within Camiyui Hair and Beauty Salon on Great Titchfield Street (walking distance from Oxford Circus, Warren Street and Great Portland Street tube) Kitsune Nails is, at a glance, a rather unassuming salon. Walking in I was expecting to find the same nail services I'd found when going for manicures previously but, on meeting owner Manami, I realised this was not the case. To call Manami a nail technician is an injustice. She's a real artist who showcases her work on her own fingernails, each one painted with a different intricate pattern (a detail I was amazed by having always struggled to paint my right hand by myself). She also has a tumblr full of images of nails adorned with stripes, polka dots and bespoke designs created to match patterns and items of clothing brought to her by her customers.
The treatment
The service I went for was 'gel nails with artwork' which was recommended by Manami (after I had explained to her how heavy handed I can be) as gel nails last up to three times longer than normal varnish without having to worry about any chipping. Together we decided on the right design for me. Looking through photographs online I'd already seen a couple of paisley designs I thought were very original, Manami showed me one I loved and I chose a gorgeous pastel green from her (huge) selection of nail varnishes.  
My nails were filed and shaped and my cuticles removed before Manami began painting, setting each coat with 30 seconds under an LED light box. Once my nails were green, Manami started drawing on the white design using something which that looked a lot like a tipex pen (although I assure you it wasn't) and instructed me to keep very still. It was amazing watching how quickly she completed such a detailed design. Before I knew it we were setting the final clear coat under the lamp.
The result
I was so impressed with how professional my nails looked and when I showed my friends they were convinced they were wraps. Manami was great. She put me at ease instantly and we chatted freely throughout the duration. I'd definitely recommend coming here to experience her skill firsthand. Manami told me to bring a pattern with me next time, she's always up for a challenge and I intend to put her to the test!