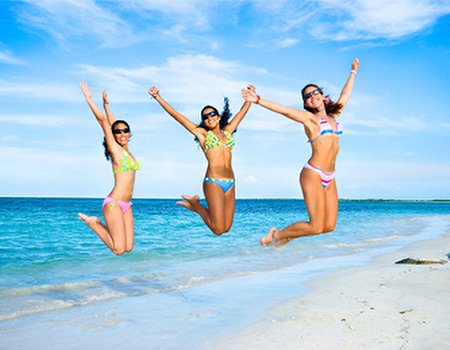 Hello all and welcome to the next blog that is called 'Fitness on Holiday'. It is very self explanatory in that people exercise loads prior to their holiday but do nothing while on it, so this blog is just a few hints as to what you could do while on holiday to keep your fitness up.
It is known that once you are on holiday you eat and drink much more and once you get back from those couple of weeks in the sun you can let the body go a bit and the weight might come piling back on so you end up going back to square one. Hopefully by the time you have packed your case you have spent weeks or I would hope years keeping fit and ready to go and looking your best for the trip. There are a couple of small pieces of fitness equipment that are light and can fit in your case to take with you and use while your away for a short amount of time each day.
First is a TRX Suspension Trainer, which fit into a case the size of a toiletries bag and can be anchored onto the back of your hotel room door to be used and can work every muscle in the body. It works by supporting your body and resistance is altered depending on your body position. If you are unsure what the TRX is or you would like to purchase one then see them here. Secondly you could take a resistance band which weighs virtually nothing and can be used anywhere, and same as the TRX can work multiple muscles and only needs to be used for a few minutes a day.
The beach is an excellent place to exercise especially to go out for an early morning run. As the beach isn't flat you will work the body differently to running on a road at home plus you will get the cool sea breeze to keep you cooler in the sunny weather. Doing this for 30 minutes or so each morning will work wonders for you and keep the health benefits up from the likely unhealthy diet. Other exercises that can be done in a short area of space are press-ups, crunches, planks, triceps dips in the hotel room or on the beach.
In case you do eat and drink much more whilst on holiday, doing a little each day for 30 minutes or so can go a long way to maintaining a good healthy figure for when you return back to the normal life of work after the break. Just remember the weather is hotter on holiday so increase your fluid intake, stay hydrated and look after your body holiday or not.
See you all again soon for another blog.