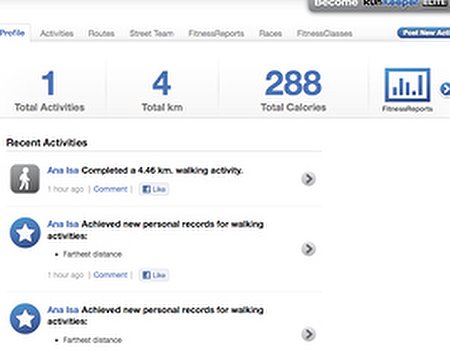 I have a confession to make, I became one of those geeky techies today. I joined RunKeeper and took my iPhone with me on my walk. The little app on my iPhone told me exactly how far I was walking, how quick, what was the average speed, even how many calories I was burning! All this while I was trying to peek at my screen and walk straight at the same time.
On my return home I was able to share my walk on Twitter and Facebook and update my profile. That's when true disappointment hit me. The data on my iPhone was collated before I set up my profile, therefore the calorie count was calculated based on some average settings. Once I inputted my real weight, the total amount of calories burnt dropped like a stone.
I meet my nemesis again, we're looking each other straight in the eye: loosing those last few pounds vs my patience levels and ability to commit to a strict regime. When you are closer to achieving your goal weight, it becomes a lot harder to shift the pounds. The amount of calories you use up during exercise diminishes compared to someone with more weight to lose.
And this is the point where I usually give up. If I can't see the results that's it, I can't see the point of enduring the pain. So now my real challenge, with a little helping hand from RunKeeper, is to continue the fitness regime simply for the benefits of exercise in itself.
I'm off to pick some tunes to add to a playlist for my walk tomorrow.