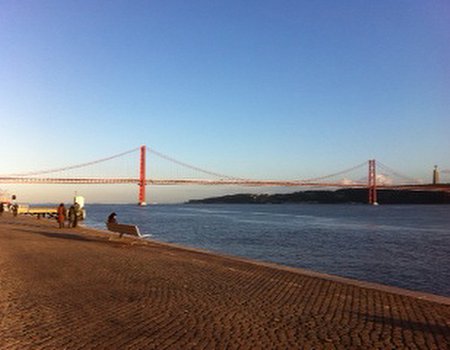 My friend is moving to New York for a while and suggested a farewell meeting by the riverside in Lisbon. I thought that was an excellent idea as there is a path, several miles long, between Belém and the Lisbon downtown area. I could do my walk there for a change.
We decided to go for a meal at an Italian with amazing views of the bridge and the river, where I had a delicious prawn and papaya salad washed down by a strawberry and banana smoothie. Not bad! To finish off a great meal in style, I ordered what they named the Perfect Chocolate Cake. It was not perfection, but it was not far off, I tell you.
For a moment I felt a tiny little smudge of guilt, but then recalled an article I read here on Wahanda before, and decided I was going to Eat Myself Happy. After all, happiness is not that easy to achieve, so thank god for chocolate cake!
In the end my walk ended up being more of an after dinner stroll than a full-on power walk. Obviously, it felt a lot easier than the beach walks, a nice reminder that walking does come quite naturally if there aren't as many ups and downs. It was also a really good surprise to see that many people, walking, jogging, running, cycling, even rollerblading along the Tagus margins. Health conscious city-dwellers!
More on the chocolate theme to come, so watch this space.