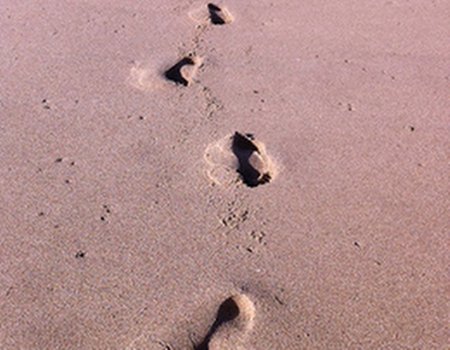 The first day went well. I went for walk number one at 6.30pm and as I braced myself for the task ahead, another gentleman, in his mid 50's (I hope he'll forgive me if I got the age wrong) whizzed past me with a steady step and nodded. "Afternoon", he said. Well, why would I be the only one enjoying the golden rays of sunshine and the sound of the waves in the hope of getting fitter? When I finished my 3.5km and was feeling quite proud, I noticed he was still going strong. Well, I was not going to leave feeling defeated, so I ended up doing 5.1km! Will see how my legs feel about this bout of competition tomorrow...
Walking on sand is a funny thing
You have to keep adjusting your balance and your posture. One foot sinks in more than the other, some of the sand is looser other parts more compact. The beach ain't flat either, so you walk on various degrees of incline. I bet it was someone walking on the beach that got the idea of the vibrating platforms! This made it especially hard to keep a regular speed. But maybe the trick is not to do that. By varying pace and step length I could control somewhat how tired I felt. How fast was I going? Fast enough that I would not be able to hold a conversation.
The science of walking
After dinner it occurred to me to try and calculate how many calories I had burnt during my walking session. And I was in for a pleasant surprise! According to Hellium™, "to burn more fats, you have to walk; the more you walk in distance, the more fats you burn because your muscles are working only aerobically (consuming mainly the oxygen you breath). Moreover, by walking, you make a start and stop at every step that make you burn more energy, not supported by the momentum helping you in running."
That was the best piece of news I have heard since I decided to take on this challenge. I can't run for more than a couple of minutes without looking (and feeling)like a fish out of water, but walking, that I can do. Netfit actually have put together a chart that shows how long/much one would have to walk to burn 1000 calories. If I follow my plan of walking for 6 days a week, I should be burning nearly three thousand calories.