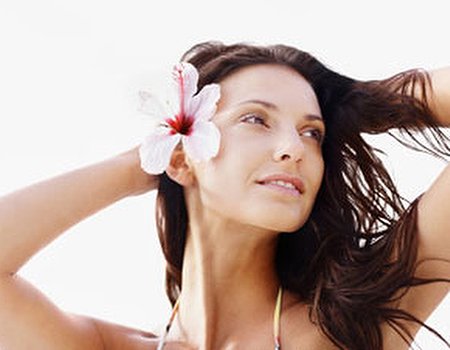 We all like to face the world with healthy skin, but how many of us follow a routine that incorporates diet and lifestyle in addition to a regular beauty regime? The key to looking great on the outside is taking care of ourselves on the inside, from watching what we eat to taking time to be mindful.
Ayurveda is a holistic system which guides us to live a healthier, more balanced lifestyle that best suits our individual make-up. Following self-care techniques such as yoga and meditation and supplementing a healthy diet with herbal food supplements, we can face the world with skin that's as glowing as we feel.
Ayurveda is based on three body-mind types – known in Ayurveda as dosha - which must be in balance for optimum health, beauty and wellbeing. The health of our skin particularly lies in how it is nourished, cleansed, rejuvenated and nurtured according to these doshas.
Generally speaking, the following rules apply:
Vata – Vata skin tends to be light, delicate and sensitive to the cold. It needs deeper levels of moisture to maintain healthy, nourished skin. Look for products using luxurious shea butter, frankincense and avocado to boost moisture levels and aid radiance
Pitta – Oily or combination skin is usually associated with pitta types. Pitta skin tends to be soft, warm and rosy but it is prone to inflammation and blemishes and so needs regular and thorough cleansing and soothing. Exfoliators are great for pitta skin, but try not to use anything too aggressive which can exacerbate the problem – instead look for fine grains using almond or similar. Aloe vera is good for oily skins too, and toners can prove beneficial if they are not too astringent. Look for rose and orange based formulations which are gentle enough to balance skin without overloading it with heavy moisture.
Kapha – Normal to combination skin is common in kapha types. Kapha skin tends to be silky, smooth, plump and soft. As kapha types sometimes suffer from poor circulation – particularly during the colder winter weather – skin will benefit from invigorating treatments to enhance radiance. Balance is key for kapha types, and something gentle like a rose based day cream is ideal to protect and revive skin. Rosehip is also a key ingredient to look for, and more mature skins should seek out products with starflower which is very supportive to stressed skin.
Discover your dosha and recommended skincare routine at www.pukkaherbs.com/ayurveda/dosha-quiz.