Hand and Feet Treatments
Hand and Feet Treatments
Choose from
3,066 venues

offering

Manicure and Pedicure

null on Treatwell.

Get the best from your fingertips to your toes. Give nails, hands and feet the full treatment. Get buffed, shaped, trimmed or decorated, sparkle or shine, it's all on hand with the best nail artists, manicurists and pedicurists on the block.

Book now
Top nails venues
Just a second, we're finding some venues we think you'd enjoy…
Inspiration
Chipped a nail? Browse and book long-lasting gel manicures
High impact nails in an instant.
Looking for a local mani? We've got it nailed…
Top Nails offers
Just a second, we're finding some offers we think you'd enjoy…
From BBs to EEs, we're pretty accustomed to makeup that cares as well as carries colour. But when it comes to nail polish, nourishment has always come second to shade. Until now.
Slowly but surely, nutrient-infused varnish is making its way to the fore, promising to strengthen, replenish and restore nails with every coat. Argan oil, vitamins and even superfood extracts have been packed into a variety of hues, which are said to be just the thing for digits in distress.
Whether brittle, flaky or simply a little stained, pack away the glitter and push back those cuticles – it's time for you to meet the super polishes (spandex and novelty cape optional).
NailKale in Victoria, nailsinc
The claim: "Stimulates advanced keratin production, making the nails stronger, brighter and more nourished."
The super ingredients: Kale extract (including vitamins A, C and K), plus aldehyde, zinc and calcium.
The pricetag: £14 (Boots, House of Fraser, Debenhams nationwide)
Verdict: This deep cherry shade was glimpsed backstage at Victoria Beckham's SS15 shows and just like Posh herself, it's impressively glossy. Opaque after just two coats, it unfortunately chipped within the first 24 hours, so you definitely need to pair it with a topcoat.
As for its added ingredients, nails did appear slightly stronger after a week's wear, but evidence of the promised "increased brightness" was hard to determine. Overall, a solid, classic colour, thankfully without the usual discolouration perils.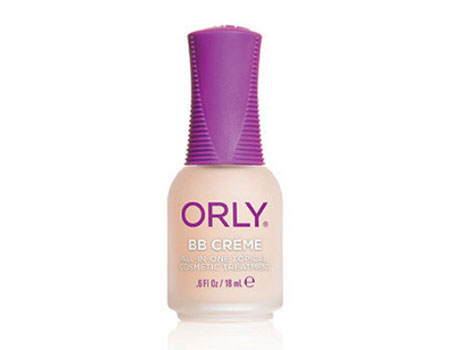 BB Crème, ORLY
The claim: "All-in-one topical cosmetic treatment that helps to smooth, moisturise and brighten natural nails."
The super ingredients: Hyaluronic acid, sodium hyaluronate, glass microspheres, vitamin C, titanium dioxide and a special blend of waxes.
The pricetag: £15 (Boots)
Verdict: This barely-there polish goes on glossy, but dries down to a subtle satin sheen. We found that our nails looked and felt smoother, with smile lines still visible, which kept the look very much 'your nails, but better'. The peachy tone did make nails look a little healthier, but if you're looking to hide any significant staining, we're afraid this varnish won't be able to mask the yellowy undertones.
As for longevity, a single coat began to experience tip wear after two days, which was a little unnerving. If you forget you're wearing this polish at any point, its milky translucency means you'd be forgiven for thinking your nails themselves were flaking, but it's great for giving polish-addicted talons a breather and perfect for understated everyday wear.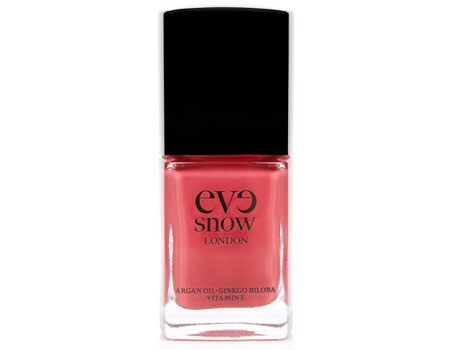 First Kiss, eve snow
The claim: "Disguises nail imperfections, broken nail bed, sun damage, nail blemishes and discolouration."
The super ingredients: Vitamin E, ginkgo biloba extract and argan oil.
The pricetag: £14 (SpaceNK and selected Boots stores)
Verdict: Impressively pigmented, this raspberry red shade also scores top marks for drying time - one coat was touch dry within 30 seconds. Brushstrokes were barely distinguishable and coverage levelled itself well, meaning the brand's "imperfection disguising" claims certainly seem to ring true. First Kiss is less shiny than NailKale's Victoria, but it's rich colour still carries a pleasing, almost waxy sheen and chip time without topcoat passed the two day mark.
We're unsure whether the gingko biloba leaf extract boosted growing rate that much, but our tips seemed to hold up better when faced with polish remover, suggesting the oil and vitamin infusion had boosted strength on some level. A flattering shade that probably comes to life in the summer months, but is good for on-the-go, minimum damage manis all year round.
---
Lay it down. Buff it. Polish it. Work those nails. Manicure, pedicure, gels and jewels: find a new favourite nail bar or hook up with your friends for a nail treatment before a big weekend. You'll find the best specialists for all things nail and cuticle on Treatwell.
Fingers or toes? Search for nail treatments in your area and browse before you book that manicure or mani-pedi. Nail the best offers on hand and hot foot it to the best therapists in town. Nails are the lasting beauty fix that let you shine, so get creative – and get booking.
Get the buzz. Lay down new trends. Sweep through beauty blogs on Treatwell. Check out the latest on fish pedicures, manicure trends or nail polish policy on the street. From spas to local nail bars, our reviews, ratings and blogs let you choose with confidence.