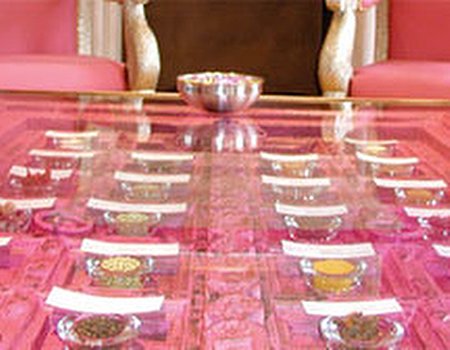 A holistic treatment to balance physical and mental wellbeing.
Tucked away in residential Holland Park, London, Shymala Ayurveda Spa is a true oasis of peace and calm. It specialises in the ancient Indian practice of Ayurveda, and as I waltzed into the building I was struck by the ornamental beauty of the surroundings. Fit for a Maharaja, beautiful, ornate chairs and amazing, awe-inspiring statues held prime position in every corner of the room.
First up I was given a consultation by one of the spa's doctors, who amazed me by being instantly in tune with my body imbalances – just by touching my fingertips and pulse. Next, I was introduced to my therapist and taken up to the treatment room. To start, my skin was drenched in a gentle, body-balancing Ayurvedic oil, which was massaged into my skin using long, swift strokes. Following this, a scrub that blended walnut (known for its circulation benefits) and dried herbs and flowers was rubbed all over my body using strong pressure to slough away dead skin cells and blast cellulite.
Then, after a quick rinse-off, I spent the last 20 minutes in the sauna and steam room to help banish body toxins and boost the immune system. To finish, I had another consultation with the doctor who then gave me a list of foods to include in my diet – and some to avoid – in order to bring my body back into Ayurvedic balance.