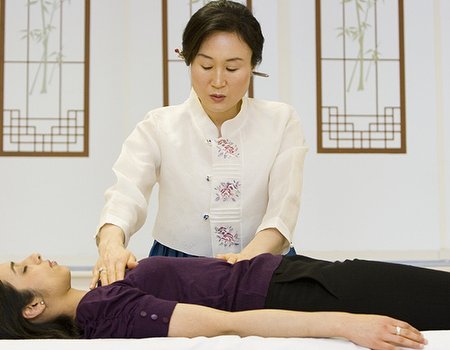 Feeling low on energy? Has the British winter dampened your spirits? Exorcise those seasonal demons with a spot of alternative therapy that's specifically designed to target the winter blues.
The Qi massage technique originates from South Korea and focuses mainly on stimulating all the pressure points of the body to alleviate 'energy blockages' in a form of acupressure. But the Qi experience isn't just about physical treatment, it also borders on the spiritual; bringing with it a predictable degree of scepticism.
Pre-treatment at Innersound in London's West End, I'm handed a clipboard complete with a symptom sheet. On the printed diagram of the human body I circle the shoulders, neck and the small of the back. I cite my main discomforts as an accumulation of stress and anxiety, which, I suddenly realise, is by no means a lie. Once my symptom sheets have been analysed by the Qi master I'm ushered inside a spacious white room kitted out with a chaise longue and a petite coffee table with an oriental teapot and two mugs positioned thoughtfully on its surface. "Master Kim will be with you shortly", says the receptionist as she shuts the door behind her. I take a quick look around. Judging by the whitewashed surroundings of the room it begins to dawn on me that this is a rather strange place for a tea party. Seated on the chaise I twiddle my thumbs in apprehension of what might come next.
I wasn't left waiting. In a matter of minutes the door slinks open and the small and graceful figure of Master Kim slips through the open void. We trade greetings and before long the green tea is flowing and so is the conversation. "All we ask is for people to have an open mind", she says as she sups her tea. I nod my head in agreement but remain relatively unclear as to just how open my mind should be. I ask a few questions to do with the treatment and she asks for my hand. I stare at her for a little while to make sure she isn't joking. After a while I duly offer it up and flinch as she holds my nail-bitten fingers and closes her eyes in mediation.
"You have very bad eyes. You sometimes feel dizzy, no?" The first part of this question is at least true. My eyes have a tendency to ache after work and have been giving me grief ever since I was old enough to open up a Microsoft Word document; yet I do not wear glasses. However, the dizziness comes as news to me and I ponder for a moment whether I would be able to tell if my eyes were bad if all I ever owned were bad eyes. As Master Kim allows her grip to slacken she takes the time to explain to me that the hands are one of the main outlets of energy that's designed to continuously stream throughout the body. Just by holding a stranger's hand Qi masters have the incredible ability to decipher the extent of a person's energy and whether or not there are any prevalent energy blockages.
The treatment itself is no relaxing spa massage. Let's get that straight. I lay fully clothed on the treatment table, as the procedure is non-invasive, and release little yelps as Master Kim runs her fingertips hard along the centre point of my midriff in line with my belly button. "Relax", she says. I try my hardest to ease up but find that the trying part defeats the object of relaxation. Then Master Kim really shocks me. She begins to unleash a sporadic fit of belches that wouldn't seem too out of place in the local pub. For a tiny woman I come to the conclusion that her burps are particularly impressive. "Burping out the toxins", I hear Master Kim whisper under the breath. God knows, she'll be at it for hours I think . I bury my instinct to start giggling at the utter bizarreness of the situation somewhere deep inside me.
Master Kim asks me to flip over. She works the ligaments and sinews around my spine as though they were made of clay, knowing exactly where to re-model. I shut my eyes. As Master Kim moves onto the blades of my shoulder I begin to feel very sleepy, almost drunk. I ignore the consistent floods of belching and disappear from myself. I can still feel the hard fingertips sculpting the whopping knot on my right side, but my priorities shift, the pain no longer bothers me. I feel that whatever Master Kim is doing to my body needs to be done.
"Many years damage", says Master Kim after the treatment. She shakes her head gently from side to side in an expression that seems to suggest in some strange, unexplainable way that she understands or feels my pain. However, as most of you may have already guessed, I'm no believer of miracles and scepticism tends to be my only religion. But having undergone this treatment I can safely say with a clear conscience that I felt the after-effects of this Qi treatment for around a week and would recommend it to anyone. Just keep your mind open and don't expect a luxurious spa pampering with essential oils.