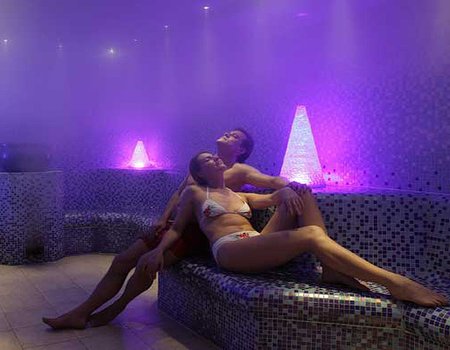 Titanic in Huddersfield may bear a strange name (this former mill was built the same year as the famous liner) but it maintains the strongest green ethos of any spa in the UK.
In short, this is what spas should be aspiring to achieve. With overnight stays available in split-level suites and a range of experiences outside the normal spa experience, Titanic offers a truly environmentally friendly stay.
The relaxation lounge plays a crackling fireside DVD to while away the time between treatments. Unique experiences include the Ice Room, where a peppermint aroma and hunks of ice encourage you to exfoliate in a most unusual way. A Mud Chamber session and a Hamman treatment room offer a variation to the usual spa experience.
For those who can't possibly miss out on a well-earned massage, the usual suspects: Elemis, Decleor and Carita are on hand to soothe and relax.
The spa is utterly eco friendly. Titanic's power is fired by wood chip from sustainable forests, while water for everything from the steam rooms to the drinking fountains comes from a borehole 100 metres underground. The Mill has invested £1.5 million to create a carbon neutral building. Its CHP (combined heat and power) unit provides heat and electric. This unit takes chippings from sustainable trees managed over a controlled time period. The trees also extract similar volumes of CO2 that are given out during biomass woodchip production. It houses a 15m chlorine-free, salt regulated swimming pool, photovoltaic solar panels catch the daylight all year round.
Top Tip: If travelling a long way, book an overnight stay on site. The spa is free to use the next morning anyway. With suites overlooking the Pennines, buy a bottle of wine from the bistro downstairs and enjoy a cosy night in with a range of DVDS free to borrow from reception.