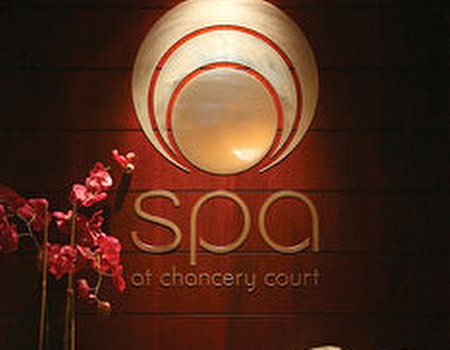 If you love to be pampered and attention lavished then the Spa at Chancery Court is great for a day of excessive relaxation and luxury. This fabulous Spa is nestled inside the Chancery Court hotel on High Holborn, which makes it greatly convenient to access for Londoners.
Once in the changing room and shown your locker, you're left to your own devices to change into the comfy robe and flip flops that are provided. If, like myself, you can't help but fully inspect a room before moving on you will find a sauna, steam and massage shower room, as well as showers full of Espa products. Then it's time to make your way to meet your therapist and head off for your first treatment.
The spa is designed around a round wooden room 'the relaxation room'. This is a large room set in the heart of the spa that's full of natural materials and where timber hasn't been used as décor the walls are made of stone and have little waterfalls trickling down them. It's all very calming and tranquil if you're willing to pay a little bit extra for it. Set out in the outside of the circular room are eight loungers, each have a tiny reading light and headphones that have soothing music so that you can relax between treatments. In the centre of the room there's a water feature, herbal teas and a big fruit bowl for you to help yourself to.
As for the treatments; sublime and peaceful are just a few of the words that would best describe my hot stone massage. The treatment beds are huge, in fact I think they are the largest beds I've ever had a treatment on before, all 6ft of me was fully absorbed by it. Being a rather tall lady it was a lovely treat not having to worry about where I place my arms or dangle my feet off the edge. My therapist was quick and efficient and made sure that she kept the stones hot at all times, and being the demanding person I am I decided to ask if she could also give me a freestyle massage on my neck and shoulders which she quickly got on with without any complaints or nasty extra charges. Not only did she manage to work out all the tension that my neck was harboring, but I felt relaxed for at least six hours afterwards.
I am not the greatest fan of reflexology as my ticklish feet normally cause me issues, but I let the therapist take my huge size 9's to see what she could do with them. My poor neglected feet felt ten years younger.
The Spa at Chancery Court is fully kitted out with Espa products so only the best products are used for treatment. Even when having my manicure and pedicure, I was treated to an arm and leg massage and walked out with my nails picture perfect.
Top Tip: Perfect for if you are arranging an event as you can also arrange for food to be served during the day and enjoy it in the relaxation room.