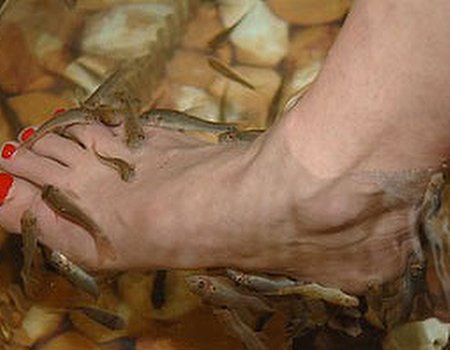 Welcome to Appy Feet, the very first fish spa in the UK, now open at Meadowhall Shopping Centre, Sheffield… Fish Spas are a new beauty craze set to revolutionise the pedicure industry in the UK and is already hugely popular in salons throughout New York, France, Germany and Singapore.
Whenever something new and exciting lands in the world of fashion and beauty, it's my job to try it out and report back. Think of me as your Guinea Pig. 'Lucky you!' - you might say - but when it came to Appy Feet, I wasn't sure whether to feel 'lucky' or scared out of my wits.
I'm happy to report, however that the experience is actually very pleasant despite initially feeling unnerved. After a brief foot cleanse, you simply immerse your feet into the foot baths as Garra Rufa (also known as Doctor Fish), gently suck and nibble away the dry skin from your feet leaving you with healthy, rejuvenated skin. These clever fish originate from Turkey and can also stimulate acupuncture points, helping to regulate the nervous system, relax the body and release fatigue.
As soon as you dip your feet into the foot spa, the fish flock to your feet like bees round honey so this may slightly startle the more delicate among us but in all realism, this is not a scary experience, it is a hugely impressive and soothing one.
The slippery, unfamiliar feeling of any kind of sea creature near my person alarms me but this felt like gentle bubbles rippling around my feet which I found very relaxing and yes, the clever little things live up to the claims and I was left with smooth skin worthy of this season's neon platforms.