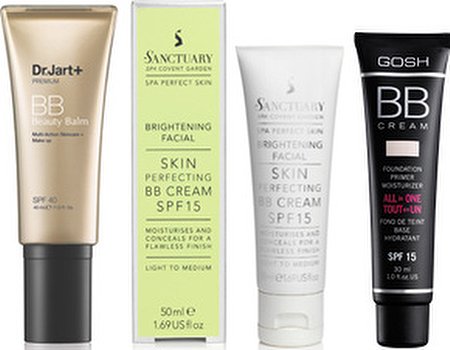 If you're even slightly interested in beauty (and given that you're here, we're going to assume you are), you'll not have missed the rise of the BB cream phenomenon over the past couple of years. An all-in-one product that protects, conceals, illuminates and moisturises, 'blemish balm', 'beauty benefit' or 'beauty balm' creams headed this way when the West got wind of Korea's latest skincare secret. Originally used decades ago for protecting skin and concealing scars after laser treatments and surgery, it slowly made its way into the mainstream market and now barely a week goes by without another brand releasing its own version.
The multitasking products have been created by the likes of Garnier (the first in the UK), Bobbi Brown, Maybelline, Clinique and many more, all promising to give a flawless finish while defending the skin from the elements. But with so many popping up across the beauty spectrum, we decided to put a few to the test - here's how some of the leading brands fared under our critical eyes...
Skin79 (Super Gold), tested by Elly
"At first I was worried this was far too pale for me, and when first putting it on I did look a little ghost-like but within five minutes it had been absorbed into the skin. It gave a light and slightly glossy finish, so I topped it off with mineral foundation just to keep the shine down, and it was very moisturising - so much so that it wouldn't be good for oil skin. The yellow undertones made sure there was no greyness to the skin and it looked natural once on.
"The downsides? You have to buy it via eBay and the like since it's a Korean brand and the colours are very pale - definitely no good for anyone with a slightly deeper skin tone. I did feel I could do with a bit more coverage and I'd prefer a higher SPF - I'll probably use this as a primer going forward and invest in one with higher protection." Skin79 BB Cream, from £11
Witch BB Cream, tested by Becca
"With pale skin that's prone to breakouts, a BB cream that covered blemishes while clearing up any possible new ones sounded almost too good to be true. Nicely thick in texture, this peachy toned BB cream felt more like a giant tube of creamy concealer and almost 'set' on my skin on contact - great for long days where some bases feel like they could almost slide off my face.  
"By the end of the day, however, my skin felt slightly dry and slightly itchy. I'll definitely keep using this and it's a real bargain too, but I might have to spend on some hydrating spray or facial spritz to keep skin soft throughout the day or even mix it with my usual moisturiser. The BB cream kept shine at bay all day long, and the thick texture does deliver on covering up problem skins - it worked perfectly at covering up small red patches." Witch BB Cream, available in Boots and Superdrug, £6.99
Sanctuary Skin Perfecting BB Cream, tested by Hannah
"I really liked this, but it's not as smooth as a moisturiser would be so you can get lines where the tint doesn't quite blend in. I would have preferred heavier coverage to conceal under-eye bags and pimples, but that said I do prefer the dewy look rather than a thick foundation so I'm glad it was fairly light on the skin.
"I'm not sure if it was a coincidence, but since I started using it my skin has cleared up, though this could also be because I stopped using a heavy moisturiser while testing it out. It's very much like a tinted moisturiser and the scent was lovely - though it wasn't the easiest to blend and not a patch on my Chanel foundation, I would happily use it again." Sanctuary BB Cream, £14.99
Gosh BB Cream, tested by Natasha
"I love the range of colours provided by Gosh - there's pretty much something for most skin tones whether fair or dark which is new for the BB cream genre, and I've noticed the brilliant colours resonate through their products. However, I did feel that GOSH's BB cream didn't provide enough coverage for my skin. The product was too sheer to use as anything other than a tinted moisturiser which is great for clear skin tones, but my skin is slightly uneven with occasional blemishes so needs something more dense. It might just be down to my skin type, as a colleague with drier skin used a lighter shade and loved it!
"It did provide a great finish, but applying it liberally eventually produced a rather caked-on look rather than a flawless finish. I'd still recommend it - it's great as a base for a sheer, summery look but you'll want to apply your own concealer or blemish sticks on top for flawless coverage." GOSH BB Cream is available exclusively from Superdrug, £9.99
Dr Jart+ Premium BB Cream, tested by Judy
"Of all the BB creams I've seen arriving on the shelves, this is the one that I was most excited about. Disappointed by the low SPF and poor coverage of the initial UK offerings, I was looking forward to trying out the Dr Jart+ version as its journey began in Korea where the trend initially sparked. Most impressive is the range - there are four creams on offer which cater to different skin types - and it's about time given that so far the products on the market have been accused of assuming 'one type fits all'. The differing products target dryness, excess sebum, dullness and ageing, so you can pick what you need most. I tried the Premium version which is best for anti-ageing.
"The packaging is gorgeous - it looks like a soft tube but it actually has hard casing and a pump top. I was surprised to see it had an iridescent, almost mauve tone to it while also looking quite dark, which given I have fair skin worried me a little. However, once blended onto the face, I was amazed - the cream melted in and matched my skin tone perfectly. It felt like a really rich moisturiser, and instantly brightened my face. It only gave light coverage, but that was fine for me as I hate heavy foundations; best of all it didn't irritate my very sensitive skin and is SPF40 so I know it's protecting it too. Definitely the best BB I've tried, though I'm keen to give the Regenerating cream a go next as it's probably better suited to my age." Dr Jart+ Premium Beauty Balm SPF40
Which BB creams have you tried or are you excited to try next? Tweet us with your answers!