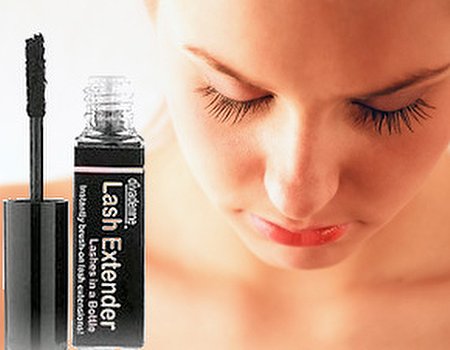 I admit it - I'm a little obsessed with trying out new eye makeup and I love it to be dramatic. But while I love the look of dark and flirty false lashes that are seen on the likes of Adele and Kim Kardashian, I also have no patience and can't be doing with all the glueing that's involved.
Thankfully, the wonderful world of beauty has made sure that I needn't miss out on the false lash effect. From lash conditioners to encourage growth, to lash extensions which last for a few weeks and even save you money on mascara, there are plenty of treatments to get your eyes aflutter - but now an instant fix has arrived that you can do all by yourself. Let me tell you more…
The product
Divaderme's Lash Extender is, quite simply, a bottle of eyelashes - but there's nothing creepy about it. Packaged much like a mascara, with a similar wand to boot, the bottle is packed full of hundreds of tiny natural lash fibres that you brush on to your own lashes to make them look longer and thicker.
They're also enriched with a B vitamin, panthenol, which can transfer onto your own lashes when worn for long enough apparently - but this is definitely more about the look rather than conditioning what Mother Nature gave you. Instant lash extensions without any glue? I couldn't wait to give it a go.
The treatment
Though it sounds super simple, applying the Divaderme lashes is not quite foolproof - it takes a fair bit of practice to get the technique right. There are some really helpful videos on YouTube to show you how to do it well and what you'll look like after, which are a great incentive to get you going.
The lashes need to be applied onto wet mascara, so you need a mascara that's not too old. Once you've applied your usual coats on your own lashes, you quickly need to use the Lash Extender over the top so that the little fibres attach to your mascara before it dries and sets. I found that you can really focus on the base of your lashes if you're after more volume, or tend more to the tips if you want Bambi-style lengthening.
If you're like me, you'll end up covered in the little hair-like things the first time you try it - after a few messy efforts I found that the less fibres on the brush the better, as it's easier to build up gradually than to pile them on. It's much like using anything with a sparkle in it - no matter how much you use, you'll need to brush away any excess. Once they're on, top up with mascara to seal and finish the look, and when it dries they should stay in place.
The result
It took a while to work out the best way of applying them, but once I'd got the hang of it I was seriously impressed. I didn't put a ridiculous amount on which meant it looked fairly natural, as if I had a really decent set of natural lashes (if only that were true!).
You do need a very wet mascara for best results - I used my favourite, Max Factor's Masterpiece Max - but even though it's only a month or so old it's starting to become too dry for this, so fresh is definitely best. It might be worth trying a few out to see what works best - no one likes spidery eyes so see which brand works its magic for you.
If permanent lash extensions are too much upkeep, false lashes are too fiddly and you want to enhance your natural lashes yourself, Divaderme's Lash Extender is the product for you. Practice definitely makes perfect and with a few tries you'll find you're a pro at making your eyes as full and fluttery as the celebs on the red carpet...
You can find more information about the Divaderme Lash Extender (RRP £42) on their website.