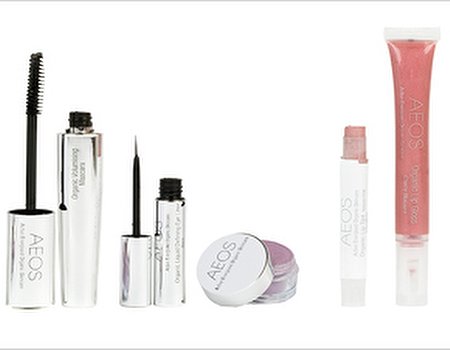 As a seasoned wearer of makeup (I started using clear mascara in my early teens and never looked back) it's quite rare for a new cosmetics range to impress me, as I am just so loyal to my hero high street products. From MaxFactor's Masterpiece Max mascara to Benefit's High Beam, I am pretty set in my ways when it comes to the basics, despite getting excited whenever I can try something new. Well, consider me a changed woman…
The product
When I first heard of AEOS (or Active Energised Organic Skincare if you want a mouthful) I was instantly intrigued by the brand; elegant design, inspired ingredients and an organic approach to beauty were music to my ears as a sensitive skin sufferer. Now they've added another string to their beauty bow with their makeup range, and suddenly my makeup bag is looking much more stylish.
Their 'ethical cosmetic products' use both organic and biodynamic ingredients. Using their Aura-Soma biodynamic Shire Farm in Lincolnshire, the experts have used spelt oil in all of the products (save for the loose powders), which is rich in natural vitamin E, essential fatty acids and antioxidants. They've even kept the colours ethical; the colouring is formed of mineral pigments, which are not absorbed by the skin - even more good news for sensitive souls like me. The simple, minimalist packaging is very inviting too, so I couldn't wait to delve in.
The treatment
The range includes all your vital makeup needs, from powders and concealers to mineral eyeshadows and liquid eyeliners. The Illuminator had my instant approval - a sheer, golden stick with a hint of shimmer that glides on to skin to leave you looking a little more radiant and glowing. I couldn't pinpoint what I liked about the scent until I checked the ingredients label and saw it listed sunflower seed oil and vanilla among others - a lovely mix.
The liquid eyeliner has a great brush and a strong, wet finish. I hate liners that set too dry and end up looking less glossy or black as a result, but this did neither and was pretty easy to manoeuvre too.
The best surprise, however, was the mineral eyeshadow pots. I am a bright eyeshadow devotee - I'm rarely seen without bright greens, golds or metallic greys on my eyes and expect a lot from my shadows, tending to stick to the same old brands. These little pots of heaven tick every box; I tried the gold, and with one little dip of a shadow brush and one sweep, I had a full eyelid of strong, shimmering colour.
The result
I was a fan of AEOS before thanks to their refreshing facial spritzers and natural methods - now it's safe to say they're a favourite for my makeup bag too. The eyeshadow really impressed me, because despite being a mineral powder which I expected to turn to dust and disappear (meaning endless topping up and layering in the morning), it lasted all day with minimal creasing. I'm pretty sure if I'd bothered to use my Urban Decay Primer Potion it would have stayed put.
The Illuminator has become a daily must-have already to perk up my pale winter skin while the lip balm is coming in very handy and adds a soft berry tint that's ideal for the season. I think I've found a new hero…
Prices start from £9.99 and products are available on the AEOS website.