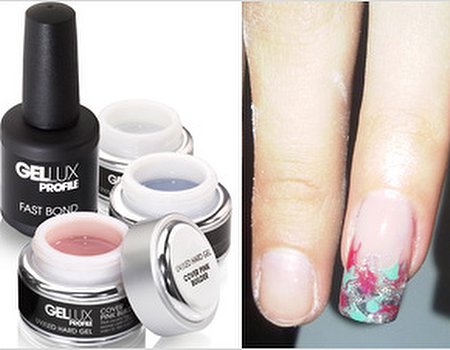 Nails have been taking the beauty world by storm over the past year and it's easy to see why. Times are tough, and manicures are a quick and cheap fix that we can do either in the salon or at home to make ourselves feel that little bit chirpier. It's also an easy way to stay on trend without having to wait for pay day.
With nail art creativity at an all time high and two week manicures topping the trends in salons nationwide, the next big thing had to wow us - and Gellux have done just that.
Salon System's brand of gel manicures, Gellux, has been at the forefront of the treatment trend which has traditionally used UV lights to cure the nails, giving you that instantly dry and glossy salon finish.
The manicure mavens have now created the innovative Hard Gels, which use either UV or LED light to cure natural looking nail extensions in minutes. Coming to wholesalers next month, it won't be long before salons adopt this brand new treatment so we can enjoy longer nails that don't make us look like we've grown claws.
Brand Expert Michelle Class says of the latest launch: "Gellux UV/LED Hard Gels are really easy to use especially if you have never used Hard Gels before.
"This system is the start of a new generation of Hard Gels as it can be cured by the use of LED lights which cuts the treatment time down to an hour. Clients love it because it is hard wearing yet flexible and is a great alternative to acrylics."
The Hard Gel system uses odourless gels to create a thin and light nail extension either on the tip or as sculptures, giving the strength and feel of an overlay while looking natural and losing those tell-tale fumes that come with acrylics.
Using the LED lights instead of UV is not only better for your skin (there have been concerns over use of the rays) but is also much quicker, while the gel manicure system itself is perfect for long-lasting nail art and on-trend colours. We can't wait to try it once it hits the salons…