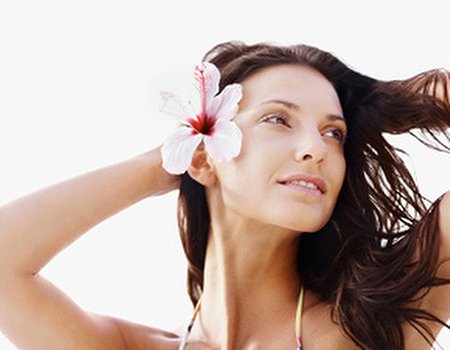 As the sun has finally made a scorching appearance in the UK, it's more important than ever to make sure your skin is protected from harmful (not to mention ageing!) rays. But if you need to top up your SPF or you're finishing off your holiday shopping list and are struggling to find a product that suits your troublesome skin, you're in the right place.
Sensitive skin types can often react to standard sun creams, causing even more irritation than the sunburn you'd get without it. Fear not, sensitive souls, for the beauty industry is never one to back down from a challenge.
A few quality brands out there have recognised the problem of intolerant skin and made some great products so that you don't have to miss out on their moisturising, protecting goodness. Make sure one of these is in your suitcase and you'll be right as rain…
Ultrasun
Move over Spice Girls, this Swiss brand is the best thing to come out of the nineties. Founded in 1992, Ultrasun creates sun care products that are perfume free, oil free and emulsifier free - so it's perfect for allergy prone skin. Even better, you only need to apply once a day for protection from the sun's rays, making it ideal for busy holiday goers.
We love the Sensitive Glimmer Formula SPF20 which adds extra protection with tiny golden sparkles that help to deflect the sun away from your skin - as well as giving it a pretty sheen. If you tend to react to beauty products you'd probably shy away from anything remotely glitzy but trust us, it works…
Avène
We've often raved about Avène's sensitive skin care range and their sun products are up to scratch too. The French brand is well known for its spring water which provides the base for all their lotions and potions and calms the skin thanks to the minerals within it.
As well as our love for their High Protection Cream, we like their High Protection Spray SPF 50+ for all over body protection - its fresh fragrance and gentle formula gets a big yes from us.
Piz Buin Allergy
Piz Buin has been a leading sun lotion brand for decades after mountaineer Franz Greiter suffered sunburn on one of his trips and decided to do something about it - and we're grateful he did. The legends now have an Allergy range specifically for those of us with delicate skin.
With its magical signature ingredient Calmanelle, an anti-oxidant combined with soothing properties to shield the skin and enhance its defence against the sun, it's ideal for those who suffer from prickly heat. We can't live without their Allergy lotion, spray and face cream when we hit the beach - it's a must-have range for your makeup bag.
Take your pick from these summer essentials for sensitive skin and don't forget - stay in the shade during the hottest parts of the day and don a decent sun hat to protect your scalp too. Now all you need is your passport and a bikini wax…