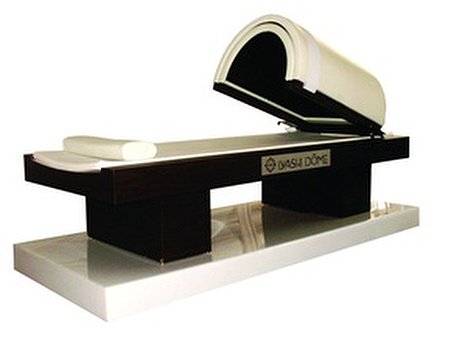 There's a new treatment in town that claims to smooth, shine and completely revitalise tired bodies as well as promote weight loss by zapping fat cells. And what's more, it's completely painless and only takes around 30 minutes! Based on an ancient Japanese technique, the Iyashi Dome is a wonder-machine that detoxifies and rejuvenates the body through perspiration, while promoting calm with soothing Japanese music.
After wide success throughout America and Europe, the Iyashi Dome has now found a UK home at award winning spa Aquarias, which is housed in Whatley Manor, the beautiful restored private manor house hotel that nestles in 12 acres of Wiltshire countryside.
Whilst you recline on the Iyashi Dome's comfy wooden bed the unique black carbon dome gradually heats you up by emitting infrared rays congruent with those naturally produced within the body. To stop you getting too hot under the collar, the breeze from a state-of-the-art Dyson Air Multiplier refreshes your face (which is left uncovered) whilst the dome cocoons the rest of your body for a purifying, regenerating and slimming treatment.
During your 30 minute session, large quantities of perspiration and toxins are eliminated from the body. You'll burn hundreds of calories as the rays start to breakdown fats including cholesterol, fatty acids and subcutaneous fats as well as lactic acid and accumulated toxins. This intense perspiration is equivalent to the effect of a vigorous 20 Km run – just without the aching limbs and blisters.
The Iyashi Dome treatment aids in purifying and rebalancing the body; it noticeably softens and smoothes the skin and the process may also aid in weight loss by reducing the size of the fat cells. It is great to use after a session in the gym to help rejuvenate the body, before a big sporting event or as an ultimate lunch time power nap.
A full consultation is given at the start of the first treatment which includes a 'Body Composition' analysis that records your weight, muscle mass, water and fat percentages. At the end of the session these readings are taken again and a print out is provided showing the results before and after the session with the percentage changes so you can see your vital statistics in all their glory.
If you like the sound of this hot and trendy treatment, get in touch with Whatley Manor and book yourself in for some dome-style pampering.