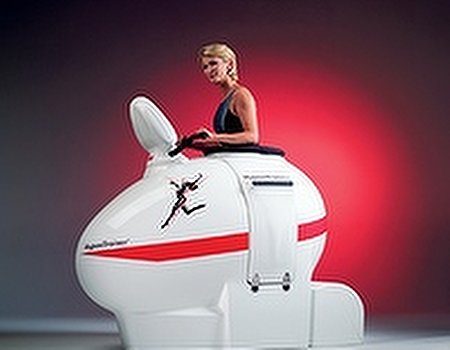 Are you dreaming of a quick way to lose unwanted cellulite and inches from your bottom, hips and thighs without resorting to liposuction or six days a week at the gym? Well, we at Wahanda also feel your pain, and that's why we jumped at the chance to try out the latest piece of fitness technology that is taking the exercise world by storm – the Hypoxi Therapy Trainer. Its aim is to target the fat stored in your hips, thighs and buttocks helping you to lose inches and reduce cellulite whilst firming your skin within a short space of time. Sound too good to be true? We went along to the City Point Club in Moorgate, London to put it to the test. Tempted to give it a go yourself? Why not book yourself in for a free session with our special offer?
What does it do?
Whether you're struggling to drop a dress size, have tried to change your body shape but countless gym visits have shown no results, or you're looking to achieve a great figure with very little effort, then Hypoxi could be for you. Its wondrous benefits claim to include:
A noticeable reduction to the appearance of cellulite.
A naturally toned lower body.
Concentrated fat burn on the buttocks, hips and thighs that results in fast and effective weight loss.
It is estimated that around 90% of women are prone to gaining fatty deposits on the lower body thanks to poor circulation, and many find that numerous diets or visits to the gym do nothing to reduce the appearance of cellulite on the hips, thighs and buttocks, or shift the fat from those areas. The Hypoxi Trainer tackles those problem areas using a unique combination of gentle exercise and vacuum therapy within a short space of time.
How does it work?
As you gently cycle within the machine, a vacuum below you generates a low atmospheric pressure to the hips, thighs and buttocks giving you the feeling you're being sucked into a hole, but this triggers an increased flow of blood to these areas. This helps break down fatty tissue as you exercise, and the fatty acids from the lower body only are then circulated around your body where they are burnt off as fuel for your muscles.
The increased blood, nutrition and oxygen supply to the lower body results in fast weight loss and reduction in cellulite from your hips, buttocks and thighs. It is recommended to incorporate this treatment alongside a regular fitness regime for maximum results.
Each session lasts thirty minutes, and it's recommended that this is done 3 or 4 times a week to really see a difference. Once you have been weighed and measured before your first session, the amount you will need is determined by your consultant; however, the minimum number of sessions on the Hypoxi Trainer is 12 which can cost from £400 to £500. You will also be given a food recommendation plan to help prevent any weight you lose from returning when your sessions are over.
Don't be disheartened if you can still see your cellulite after your first session as it is not a magic machine! However, follow their recommended healthy eating plan, and use the machine 3 or 4 times a week, and who knows what transformation your lower half will take? If it's good enough for Cheryl Cole, it can work for you too!