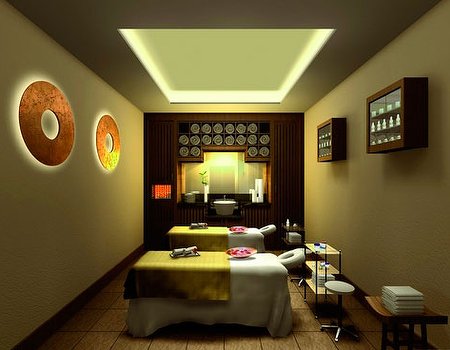 When it comes to Wahanda's tried and tested advice, we're only too pleased to don our spa slippers and robes all in the name health, beauty and wellness. So when we were offered the chance to try out Rookery Hall Spa in Nantwich, we stepped up to the mark and headed straight to the Cheshire countryside - it's a tough job but someone has to do it.
If you fancy a day of pure luxury in scrumptious surroundings, Rookery Hall should be top of your Wahanda wish list. After all, it's where celebrity couple David and Victoria Beckham got engaged so if it's good enough for the Beckhams it's good enough for Wahanda.
The Spa
Driving up the long sweeping drive in the beautiful Cheshire countryside, we already felt our stress and tension floating away and our excitement bubbling up inside us. The spa itself is located in the converted stable block, separate to the main hotel so whether you want to enjoy a day at the spa or push the boat out and include an overnight stay you're sure to find something tailored to your individual needs.
On our arrival, we were greeted by a friendly receptionist who checked us in and told us to take a seat in the comfy seating area whilst we waited for our therapist. After filling in a detailed questionnaire about our health our therapist handed over our spa robe, matching slippers and towel before showing us around Rookery's extensive facilities. With its glass roofed swimming pool, hydrotherapy pool, eight treatment rooms, and luxurious relaxation room with a stunning water feature, Rookery Hall is the perfect place for a spot of pampering.
Once we had swapped our everyday clothes for the more traditional spa uniform we headed back to reception to find out what time our full body massage had been booked in for. It was here that we were faced with our first snag. After some slight confusion over times, we quickly realised that we didn't have long until our treatment and in that time we had to have lunch and make our way over to the Amber lounge.
Waiting in the Amber lounge, the perfect place to relax before and after treatments we helped ourselves to the complimentary magazines, newspapers and drinks, including ice cold water and herbal tea. Our keen eye managed to pick out another snag - twice we asked for the water holders to be filled up but on both occasions we were forgotten, leaving us to hunt down water for ourselves. This was soon forgotten though, as before long our cheerful therapist greeted us exactly on time and led us through to our luxurious treatment room.
Sitting in the centre of our dimly lit treatment room was a heated massage bed ready and waiting for us to hop on and make ourselves comfortable. Like any good massage therapist, our therapist asked us if we had any aches and pains on entering the treatment room and then left us to de-robe and slip onto the warmth of the massage bed.
The Treatment
Laying face down on the bed, our therapist started to work on our back by applying a blend of massage oils and gently massaging it into the skin. Once all our aches and pains had been eased away, the therapist moved onto the backs of our legs before flipping us over to repeat the process on the front of our body. After working on the front of our legs, the therapist then started to work on our arms and hands before finishing with a neck and shoulder massage.
When our entire body had been massaged, we were left alone in the treatment room with a glass of water to come round, get dressed and make our way back to the tranquil relaxation room. Sadly that meant that the 60 minutes were up, but the therapist had worked her magic and all tension had been eased away.
As we slowly made our way back to the relaxation room, we picked out our ideal spot next to the magnificent water feature, plonked ourselves onto the bed, slipped under the blanket and rested our sleepy head onto the pillow. With water constantly cascading down the wall and the tranquil music playing in the background we soon felt that we had been transported from the Cheshire countryside to the Amazon rainforest.
The Results
Not only was the whole day utterly relaxing and soothing, with great facilities, charming staff and fantastic spa treatments, but all our aches and pains had been soothed away. What's more, we felt rejuvenated, ready to face the world again and left the place with the Rookery effect - a spring in our step.
Perfect as a spa day or spa break, Rookery Hall is a great place to relax, unwind and enjoy a spot of pampering. A word of warning though, this place is utterly addictive so after one visit you'll be itching to go back again. Wahanda already are!