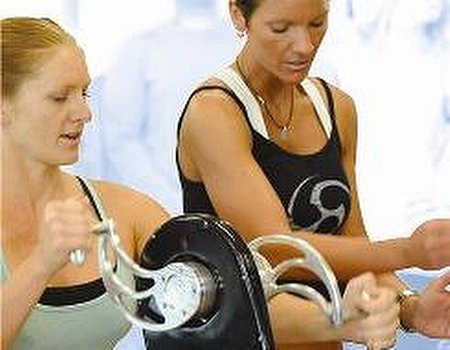 There is a brand new machine in town that's taken the US fitness world by storm and it looks set to repeat its success in the UK. The KRANKcycle is the first fitness apparatus developed to build cardio fitness through focusing on the upper body, building aerobic capacity and upper body strength whilst burning calories. Wahanda was invited to its launch in London's Covent Garden to find out more and try it for ourselves.
What is it?
The KRANKcycle could be best described as "spinning for the arms". Created by Johnny G, the man behind the spinning phenomenon, the KRANKcycle uses only the arms to create a cardiovascular workout that will have you sweating in no time. Equipped with handle cranks for greater variety of movement, a resistance dial and a removable seat, the machine can be used whilst seated or standing while your arms move the handles together or independently – otherwise known as "Kranking".
Kranking increases the upper body's ability to inhale more oxygen and burn fat, meaning you can burn a lot of calories within a twenty minute workout without putting stress on your heart, so anyone suffering from cardiovascular disease, lower body mobility or who are pregnant or obese will find the KRANKcycle easy to use and very effective.
After watching the machine being demonstrated, it was our turn to have a go. Seated in our KRANKcycles, and slightly nervous we were going to run out of breath within five seconds, we were surprised to find that the KRANKcycle was very easy to use - the movements were simple to pick up, and we instantly felt the muscles in our arms, back and stomach working harder than expected as we turned the crank handles against increasing resistance. We also noticed our whole body naturally began to move in accordance to the actions of our upper arms as we turned the handles, almost as if we were dancing, so our lower body also got an intensive workout.
The verdict
We at Wahanda understand how hard it is to get motivated to use any gym equipment, but we found the KRANKcycle very simple and enjoyable to use; so much so that we didn't notice that our twenty minutes were up. We believe that the KRANKcycle is set to get arms all over the country in a fitness frenzy next year and we're looking forward to it arriving at a local gym near us – so keep eyes peeled for your chance to try it.