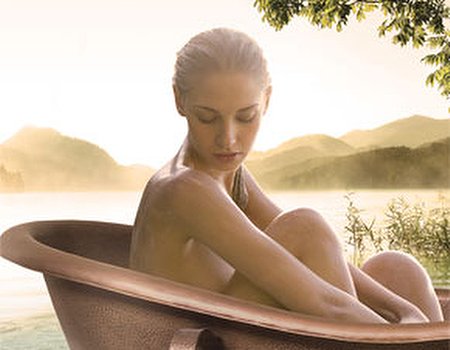 Last year we teamed up with the Austrian Tourist Board to bring you some amazing wellness offers that were too good to miss – and you loved it. Well, we've only gone and done it again.
This summer not only can you buy invigorating spa experiences in AUSTRIA'S FINEST Spa Hotels and Resorts with Wahanda style discounts applied, but you can also enter for your chance to win a spa break for two worth a whopping £2,000.
Why Austria?
If you're looking to really unwind this summer – rather than booking a holiday and stressing out before, during and after, like so many of us do – then Austria is the place to be. They know spas. They know wellbeing. They have the natural resources needed to make your spa break experience a unique one. Quite simply, they have it all…
The treatments
Austria has been a destination for wellbeing since the early 1800s, with its natural thermal waters and crystal clear mountain air attracting royals and leaders from across Europe. As well as traditional treatments which have been perfected over the centuries, Austria leads the way in innovative therapeutic approaches.
From the wide-ranging health benefits of cryotherapy to the only Oriental Hamam in the Alps, Austria's holistic treatments are perfectly placed to create true harmony of body and mind.
And for those seeking something truly unique, a Shaolin massage – provided by expertly-trained monks flown in especially from the Far East – is the perfect way to re-energise. Alternatively, let the Jin Shin Jyutsu therapists restore the balance of your energy, or feel physically and spiritually cleansed with a Sultan or Pasha treatment. In Austria, you can find the deep relaxation of the world's finest holistic remedies – much closer to home.
The therapists
In Austria, health and wellbeing practitioners undergo highly extensive training to offer a wide range of treatments, often using remedies derived from carefully selected alpine plants and herbs. When you spa in Austria, you know you're getting the best possible care - which will make your stay even more unforgettable.
Location, location, location
Enjoying the Austrian countryside is a wellbeing experience in itself – with the mountains providing the perfect backdrop for either blissful rest or adventurous activities. From calming walks through wildflower meadows to trekking on Lipizzaner stallions, you'll find something that floats your boat.
Just a couple of hours through the sky yet a world away from everyday stresses, Austria is the ultimate spa destination and has all you need for the natural way to unwind. We think we'd settle in nicely…
Enter our competition
Sound good? Make sure you enter our competition for your chance to win a three night spa break for two worth £2,000 at the stunning Reiter's Supreme Hotel, and check out our great offers to get Austrian pampering for less.