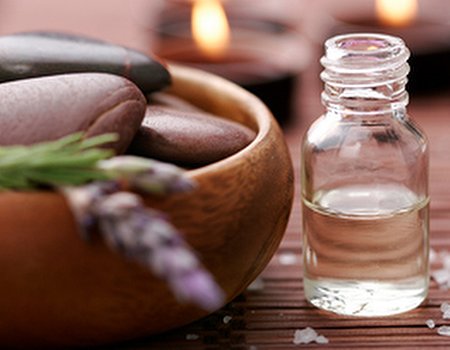 Been enjoying our 'Day in the life of...' series so far? Today we've got a real treat in the form of a peek at the life of Susanna Lewis, aromatherapist and director of natural skincare company Karma Beauty (www.karmalifearomatherapy.co.uk).
Whether she's performing a massage on one of her clients, working on her recipes in her beauty workshop or answering questions on our community page, Susanna is always working hard to help others experience the benefits of natural ingredients. We asked her a few questions about her daily routine, and luckily she was only too happy to share...
How do you make sure you get the day off to a good start?
When I wake up, the first thing I do is take two cotton wool pads and soak them in very cold water. I then apply a pad over each eye (with eyes closed) and relax for 5 minutes. This action really helps to relieve puffy eyes, and the cold water helps drain away dark circles as well as refreshing the eye area.
Next, I spray Rosewater toner ( from my own skincare range) over my face, as this really helps to tone the skin and it smells divine!
After applying my own Anti-Ageing Facial Oil, I then perform my daily routine of facial exercises. These exercises are designed by myself to improve the muscle tone of the face and really do help in lifting the face and improving fine lines.
What does a typical working day consist of for you?
The morning consists of doing paperwork, catching up with emails and processing any orders that have come from my website. I make my own 100% natural skincare and soy candles, which really compliment the work I do as an aromatherapist. I might also spend some time making more products in my workshop, which I find very relaxing. If I have a workshop or talk coming up soon, then I will spend a lot of time preparing for this by researching, reading and typing up notes.
During the afternoon and evening I generally have clients who come to my treatment room for different treatments and with different needs. I offer various treatments, including aromatherapy massage, hot stone therapy and natural face lift massage. I also run workshops on various topics, such as Aromatherapy & Menopause, Stress and Making your own Natural Beauty Products. The workshops are for a small group of ladies who come to learn about different topics centred on natural health. The workshops are great fun and always end with each lady making her own product to take home.
Is there anything you don't like about your job?
I find the admin/bookkeeping side very time consuming, as I am itching to get back to my workshop to try new skincare and candle recipes. I have learnt that it is important to keep up to date with the bookkeeping so it doesn't overwhelm me at the end of the month!
What sort of food do you eat during the day?
I firmly believe in the 80/20 rule, where if you try to eat healthily 80% of the time then it's ok to relax in your eating habits for the other 20%. So I eat healthily during the working week and at weekends I can relax a little in my eating choices.
Generally, I eat bran cereal for breakfast with a banana. For lunch, I eat my own homemade soup - broccoli, spinach and pumpkin seed is my favourite. During the afternoon, I usually have some seed crackers with a little cheese from the local farm and some grapes. This is good for keeping my energy levels high if I am working through to the evening. For dinner, I usually have prepared a healthy stew in the slow cooker so it is ready for me when I finish in my treatment room, usually around 8pm.
What do you do to switch off and unwind after working hard?
I am an avid reader and I love to read murder mysteries and detective stories. I am a member of the local creative writing group and I am currently writing a murder mystery novel set within the Catholic Church. This really does help me unwind after a long day as I can drift off into another world creating many different scenes and characters.
I also love to spend time with my family and we love to play on the Wii Fit together, especially the Hula Hoop exercises !
Is there anything else you wish you had time for?
I guess if I had unlimited time and finances, I would love to travel more and experience other cultures and other complementary therapies. With my interest in writing, I would love the time to be able to finish my novel and perhaps see it in print or even perhaps on the big screen! Wishful thinking...
Well, we don't know about you, but we've certainly picked up some handy tips from Susanna – we won't be leaping out of bed again without some cooling eye pads, that's for sure!
Want to read more of Susanna's advice and thoughts on beauty? Keep an eye out for some of her recipes for homemade products, which she'll be sharing with us very soon...