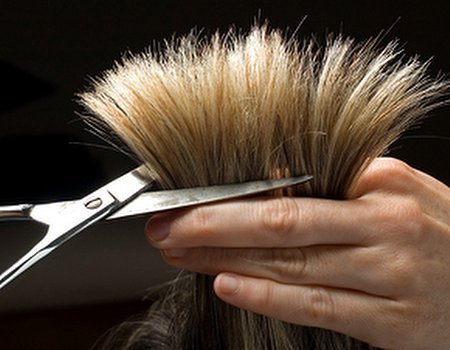 So far in our 'Day in the life of...' series, we've had a peek into the lives of a variety of different wellbeing therapists. This week, we're taking a foray into the world of hair and beauty to see what goes on behind the scenes in the life of a hairdresser.
We've interviewed Vas Kesta, celebrity hairstylist and salon owner, to find out how he goes about his working day. No stranger to hard work, Vas has appeared on Channel 4's The Salon and 10 Years Younger – but he's most often to be found working his magic at his Bromley-based salon, Hectik. Wahanda caught up with him to see if we could steal a bit of his motivation...
How do you make sure you get the day off to a good start?
I make sure I get a good breakfast in the morning and a good cup of coffee to get me going. I like to be in the salon 15 minutes before my first client, to make sure all my equipment is ready to use. Checking my appointments for the day is very important to me, as I need to know who I have booked in and what for so I can plan my day and not run late for my clients. Also, my appearance is vital - I like to look good and smell good for the day.
What does a typical working day consist of for you?
As a salon owner and stylist, my job consists of a lot of duties. I make sure all the team are on time and ready to work for the day. Dealing with clients is the most important part of my job - making sure every client leaves the salon relaxed and happy. The first step is to do a consultation with the client, understanding what she would like from her treatment and what her desire for her hair is. The next step is to put my ideas into action and achieve what the client wants.
Keeping the salon clean is important, so I make sure all hair is swept up and the section units are clean and wiped over.
Ordering stock is also a major part of the day. Stock checks are vital to make sure we don't run low on any products that we use. If we don't have the right amount of products, then we cannot create the perfect work.
What do you find rewarding about your work?
The most rewarding thing is to make the client feeling amazing when she or he leaves the salon. There is nothing more rewarding than making someone look beautiful. Clients often come in feeling down - when I help them to feel positive and confident, then I know I have achieved something that not a lot of people can do.
Is there anything you don't like about your job?
I love my job to bits. Everybody has a bad day at work now and again, but I can honestly say that there is nothing that I don't like about my job.
What sort of food do you eat during a working day?
My diet is very important to me, as sometimes I don't get a full lunch break and have to eat on the go. For breakfast, I always eat a bowl of porridge, followed by a glass of orange juice and a banana.
During the time between breakfast and lunch I try to have a few snacks - fruit, nuts and a protein shake for recovery from gym work during the week. At lunch, I try to eat a high protein and carb diet to give me energy. As a hairstylist, you are always on your feet and on the move, so being hydrated is important - I try to have 1.5 to 2 litres of water or fluid like juices. Then, for dinner, there is nothing like a good Cypriot dish - vine leaves, beans, halloumi cheese, koupes and much more, followed by another protein shake.
What do you do to switch off and unwind after working hard?
I switch off after work by going to the gym to get rid of stress and tension and free my mind. I try to go 3-4 times a week - it really helps me and keeps me nice and fit.
I have a sports massage once every two weeks to keep my body relaxed. I like to go for dinner on the weekends and socialise with friends and family.
Is there anything you wish you had more time for?
The only thing I wish I had time for is more holidays. Getting away from everything for a couple of weeks now and again helps the system so much - I always come back full of energy and ideas.
Inspired by Vas' approach to hairdressing? We certainly are! If you're looking to transform your tresses, visit our Hectik page and treat yourself to one of the salon's great value hair offers. Trust us - there'll be no more bad hair days from now on!