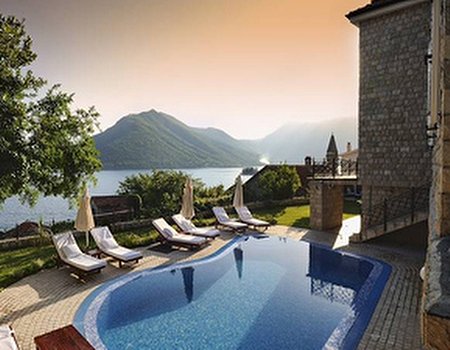 Saša Ilić, the former Serbia Montenegro international and English Premier League goalkeeper (best known for his time at Charlton Athletic) is about to open a detox retreat in picturesque Perast, Montenegro. A one-time 'food junkie' Saša is now a qualified juice therapist who's on a mission to teach us all about what and why we eat and the advantages of a healthier lifestyle. While preparing for the October season at his new health haven, he took a minute to speak to us about football, the benefits of juicing and the beautiful Monte Bay Retreat…
You've undergone a big career change in the last few years. How did that come about?
I retired from football in 2005 and found myself in the corporate world. For four years everything went well, but the change got me off the pitch and into a lot of nice restaurants and bars. Keeping myself healthy was no longer a part of my career and when the recession hit and things slowed down I realised that I had put on about two stone.
I'm already a big guy but people were starting to cross the street when they saw me coming. Friends would take photos and I'd ask them to re-take it and they'd explain 'this is how you look'. That's when the penny dropped and I started thinking about losing weight. After struggling for a while I found out about juicing and within two weeks I lost a stone and a half in weight. I felt amazing and have been an advocate ever since. As a qualified juice therapist I started giving discussions on juicing and why we eat what we do, and thought why not do this within the confines of my own four walls somewhere beautiful? It's a new adventure and practicing what I preach is a good way of me keeping on track.
As a professional footballer you must have been in pretty good shape for years. What's the main difference in your life and health between now and then?
As a footballer most things are organised for you, from boots being polished to your training kit being washed and folded before every session. My job was to maintain fitness and keep in good health. It's a competitive job and it's imperative to be in tip-top condition mentally and physically, as you have to fight for your position in the team. Footballers sacrifice the things that might affect their health and fitness - their livelihood depends on it.
When you are removed from the bubble and exposed to a "normal" way of living, things change drastically. Without having the obligation to keep fit I fell into bad habits of eating and drinking whatever and whenever I wanted. Getting out of bed to go to training became getting up and sitting around not being active.
I was eating bad foods to comfort never ending cravings. I'd feel great for five minutes then terrible until I got my next 'fix'. Juicing made me think about what and why I was eating, and changing my mind-set and diet left me looking and feeling great. Before I was overfed and under nourished, now I eat less food but take in ten times more nutrients. This is what I want to share with people who are feeling stuck or hopeless. If a food junkie like me can make a change, anybody can.
Apart from weight loss, what are the other benefits of juicing?
If you begin juicing and swap just one meal for a blend of fruits, veggies and super foods you can get pretty much all the vitamins and nutrients you need for the whole day. Your skin clears up, you have more energy and with the guidance of your doctor, it can even help you come off medication. People take tablets to control medical conditions like diabetes type two (which is often caused by eating the wrong foods), but a better diet can help without toxifying your body by 'fixing' it with tablets.
Was it hard changing lifestyle?
It's like when a smoker wants to quit smoking. It's a decision you need to make on your own. What I'm trying to do is convince people that this is the time for them to do that. The fact that they'll come to the retreat is the first step in wanting to change but it helps to hear the reasons why. Once you know why you need to change and how to do it, the rest is self-determination. This determination is what makes it easier to overcome addictions or reliance on the wrong sorts of food. It makes it easier to say, "No, I want to stick to this diet" because you know the health implications behind it.
Once someone's finished a juice detox how do you prolong the effects without giving up all the things you love?
For me, ending the habit of bad food took a lot of trial and error. You go back and forth but somewhere down the line you'll make that clear cut and realize 'this is how I want to live my life'. That's how I did it.
With my retreat I want to teach people how to change things step by step to maintain a healthier lifestyle. We'll be running different courses like 'Alternatives to Junk Food' that teach people to make their own comfort food. When I have a movie night I make my own 'junk food' like beetroot and sweet potato chips or kale crisps. Eat that with homemade avocado and mint dip and you're eating 'junk food' with nutritional value and you've stopped yourself consuming toxins from traditional snacks.
Tell us about the resort itself…
It's an all-inclusive 7-day retreat with three juices/smoothies a day and an evening organic soup, in a five star luxury boutique hotel. Every room has it's own Jacuzzi and all the luxuries of a five star resort. We've thrown in activities like hiking, running and fitness training and, for the first season, we'll be offering pole fitness with qualified instructors too. Yoga plays an important role too, it gives you calmness and focus that help balance and detox the mind and body.
We want to offer activities that people can do together because we're all detoxing and it's important that we stick together and help each other out. We'll have to take into consideration everyday variables like the weather but we've got plenty to do and it's all fun.
Do you hope to open more resorts or will you be focusing your attention on Monte Bay?
In October and November I am leasing a beautiful, luxurious 11-suite boutique hotel. I've purchased a 300-year-old five bedroom stone house 50m away from it and I'm in the process of reconstructing the whole building to make it into a five bedroom luxurious villa with private spa facilities. Once it is fully completed (hopefully October 2014) this will be the home of Monte Bay Retreat. I have no intention of growing the retreat and making it for the masses as I see this venture as not just a business but a lifestyle. My philosophy in life is that if you do a job that you love doing, you are a happy man. I am a very lucky and extremely happy man.
Got any top tips or a simple recipe for anyone who wants to begin incorporating juicing into their lives?
I got started off by reading Jason Vale's, The Juice Master books and they helped a great deal. Now, I tend to use two apples, one carrot and an inch of ginger as a base for all my juices and experiment adding other veg like spinach, broccoli or beetroot. Once you've juiced the fruits and veggies you can either drink it or put it in your blender to make a smoothie, adding soft fruits like bananas, and avocados and almonds, Brazil nuts or walnuts. Just have fun and experiment and you'll be an expert in no time.


For something special, juice three apples, half a carrot, an inch of ginger and half a lemon. Throw it in a blender with a handful of ice and a whole banana. I call this 'The Monte-licious'.
We can't wait to try it!
Saša's retreat opens in October. For more information about what's on offer take a look at the Monte Bay Retreat page.