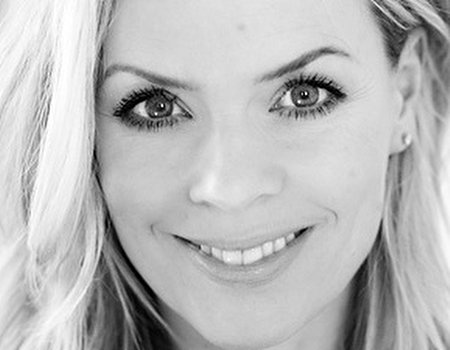 With over 12 years experience, Caroline Barnes has become one of the most sought after makeup artists in her field. With a reputation for 'approachable beauty' - creating looks that are natural, modern, polished but unmistakably you - Caroline has worked with a huge number of famous faces including Kylie Minogue, Cheryl Cole and Diane Kruger. Caroline has also been a spokesperson for beauty brands Clinique and L'Oreal and has recently been appointed UK and Ireland brand ambassador for Max Factor. Last week we caught up with her to talk makeup essentials, key summer looks and private jets…
What's in your essentials makeup kit?
Skin, brows, lash and cheeks are my basics. Without any of these I feel like a total flat and blank canvas. My foundation is a mix of Max Factor's Ageless Elixir and Mac Face and Body, I alternate depending on the colour of my skin and how dry it's feeling. I use Tom Ford's brow sculpting pencil in Taupe as it's a perfect match to my brows (I have big gaps in my brows so like to fill them in a naturally as possible). My best new mascara is Clump Defy from Max Factor as it gives my lashes the bulk I like without the hideous clumps. Lastly I use Daniel Sandler cream blush in Hot Pink across my cheeks. Combined, all these products work together allowing me to look human and as fresh as I can!
After what seemed like an endless winter, what's the best way to update our look for the summer?
We are all craving colour and light after such a long winter so opt for illuminating products that give your skin a moisture-surged finish. A pop of rich pigment on your lips gives new life to anyone's face - you can use gloss or lipstick, it just depends on your own personal taste.
Are there any changes we should be making to our skincare regime to prepare for the new season?
Exfoliation is key to radiant skin. I prefer not to use granules as they really scratch the skin's surface. I always go with products that contain glycolic and salicylic acid which gently dissolve dead skin cells.
What's your favourite beauty look for the summer and how do we get it?
There are so many looks to be inspired by, but it's really important that you match your makeup to your style of clothing. A red lip can look gorgeous worn with a simple black dress and loosely pulled back hair, but can instantly age you worn with, for example, a patterned jumper, jeans and pumps. My general advice is if you have a look that you know works for you but you want to update it experiment with new products of the same ilk. By simply purchasing new formulas and textures you can give your look a subtle but modern edge.
How do you stop hot weather playing havoc with your makeup? And how on earth do you cover sunburn?
Sunburn is 'uncoverable'! The key is not to get burnt in the first place; it's not difficult to protect your skin. Wearing makeup in hotter climates can be tricky, but opt for products that are water resistant and oil free and keep your look simple. Use liners rather than lots of eye shadows, and use a stain on your cheek and lips to add colour that won't slip.
You've been in the industry for years, have worked with some of the most famous faces and are now Max Factor's UK ambassador. What has been your career highlight so far?
Gosh, my daily working week is so varied its hard to pin point the BEST part. I'm fortunate enough to have had a few highlights. A few really special moments include seeing my first Vogue Cover on the shelf, the opening night of Kylie Minogue's ShowGirl Homecoming Tour (the Australian part she couldn't complete because she became ill), stepping onto a private jet for the first time and having someone cry when they look in the mirror after I have completed their makeup saying they 'never knew they could look that pretty'. Applying makeup in the Caribbean at sunrise with sand between my toes is a good memory too and, of course, feeling very proud when Max Factor asked me to be their ambassador.
Have you picked up any trade secrets over the years that you don't mind sharing?
Secrets wouldn't be secrets if I shared them…
Max Factor have recently launched a CC cream, can you explain to us the difference between CC and BB?
In short, so as not to add more confusion, a CC cream has more coverage than a BB cream. You still achieve the natural fresh looking skin texture but if you are not blessed with naturally near perfect skin then a CC cream would be a much better option for you. The texture of the Max Factor CC is also super light, so if you're not keen on the feeling of foundation on your skin you'll love this product.
If you were stranded on a desert island with just one product (and a mirror) what would it be?
Mascara!
What, in your opinion, is the cardinal sin of makeup application?
Darkening the tone of your skin with foundation. It will always appear muddy and will never look natural. Aside from this there are no other rules, as makeup is a form of individual expression that should never be judged by others.