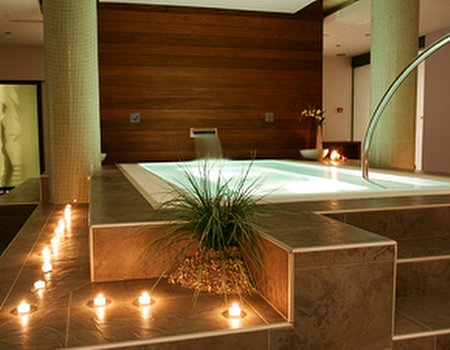 My confession? I'm not a religious person. I don't do churches, not even on my wedding day. I chose a beautiful 500-year-old La Mairie (French town hall) in St Tropez in preference to a church and our daughter wasn't christened in 'the house of God' either. Her arrival was honored in our garden one sunny weekend with family and friends, champagne and cake.
But give me a spa and I will follow devoutly. A steam room, plunge pool, heavenly facial and massage – that's what I call a cleansing of sins. When you strip it down, a modern spa is a place to find peace and quiet, to worship at the Altar of ME. And I'm not precious. A spa doesn't have to be in some grand ecclesiastical building (though ironically, I do LOVE a spa in an old monastery – monks knew a good perch when they saw one). Booking time out for a facial, massage, hell even a manicure is devotion to oneself – the essence of religion in my good book.
A spa break, be it for two hours or two weeks is a place for you to show total devotion to yourself. Then, and only then, will you get the most from your money and precious time and leave with such a feeling of lightness you could walk on water. Amen to that.
My Ten Spa Commandments
How to take your spa experience to a higher level…
1. Lead thee not into temptation
Think carefully about what you want from your spa break before you start googling. Do you want pampering/a quick beautifying pit-stop/a health boost? Get it clear in your mind first.
2. Respect the journey
Factor in the spa's location and logistics from the word go so you don't ruin your relaxation with hassle on the way home.
3. Thou shalt not take thy name in vain
There's no point bad mouthing a treatment/therapist to your friends after you've left. State what you like from booking (quietest treatment room/most experienced therapist/option to hang out after in steam/relaxation room etc).
4. Though shalt speak the truth
Be clear and honest with your therapist about what you do and don't like, from music to not chatting to a loathing of paper pants and too hard or too flimsy pressure (then speak up when she gets going if you need more or less).
5. Thou shalt not covet
Be positive about your body – who cares if the woman in the sauna has a better booty than you, this is the place to feel better not worse about yourself. Therapists have seen it all and it's their job to make you look and feel supremely better.
6. Thou shall rest
Factor in some 'doing absolutely nothing' time. Turn your phone off and leave it in your locker – think about your frazzled soul.
7. Thou shalt not steal
Fair do's, we don't nick dressing gowns anymore but nabbing lotions and potions is a no-no too – mainly because you won't necessarily get the right ones for you/and will prevent others trying them. Ask for samples, especially if you had a facial –a great way to test new skincare and a spa worth their salt should know that.

8. Love thy neighbour
We Brits can be so up tight at a spa, walking around trying to avoid eye contact with fellow spa goers. So go on, give 'em a smile, it'll make both of you feel good.
9. Deliver us from evil
Pick up some tips so that you can be more spa-tastic from now on. Spas are brimming with information and wonderful little ways to care for ourselves better so be open to their advice and tips.
10. Make sacrifices
Many people complain to me about how expensive spas can be – but then, when they tot up how much they spend every month on less moral pastimes – drinking, unhealthy food, that daily takeaway cappuccino - they soon see the light. I suggest you do too.
Feeling inspired? Wahanda are offering 50% off exclusive summer spa days meaning that this summer you can 'worship at the Altar of ME' for just £50.