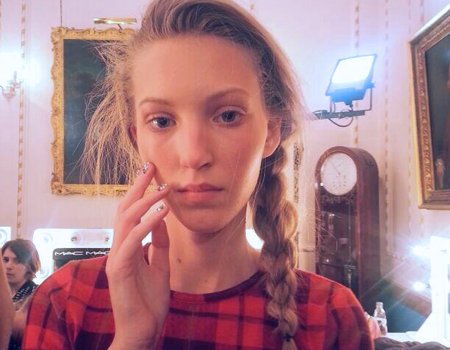 Beyond the huddled brollies and rain-soaked coats, there were (praise be), cheerier things afoot at London Fashion Week. Backstage, we took a metaphorical trip to Miami, had a glowing Hollywood starlet within our sights and then made for the waves with the best beachy hairstyles we've seen in years. Say hello to sunshine with our top LFW trends…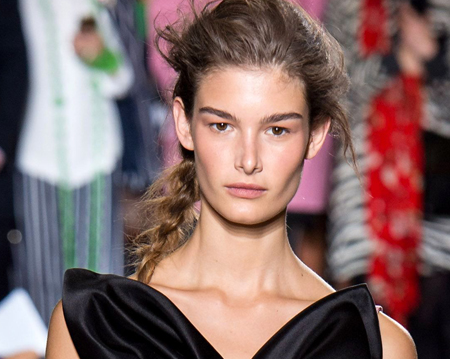 Image: REX/PIXELFORMULA/SIPA
SECRET SKIN
Welcome to a world where skin appears naturally gorgeous. At Giles, the seemingly sludgy MAC Pro Paint Pot in Groundwork was stippled over cheeks to create a honeyed, monochromatic look that gave models cheekbones to rival Amber Valletta. For Matthew Williamson, Lisa Eldridge mixed Benefit's Creaseless Cream Shadows in No Pressure and My Two Cents and buffed them into the hollows of cheeks to perfect a technique she christened, 'stealth blending'. Finally, Sharon Dowsett revealed our favourite skin trick of the week backstage at Todd Lynn: mix Maybelline Colour Sensational Lipstick with Delicate Pearl Baby Lips Lip Balm and 'thumb it' onto the tops of cheekbones, the temples and bridge of the nose to add a final touch of secret radiance.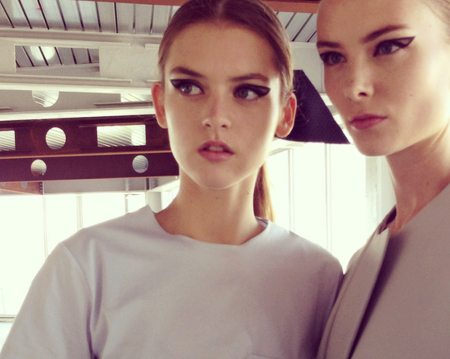 KITTEN EYES
Cat eye makeup is old news. Next summer is all about the kitten eye – a new and frankly far cuter take on the classic flick. With MAC 's Blacktrack Fluidline gel liner in her super-steady hand, Lucia Pica swept it along the base of upper lashes and just above the crease of the eyelid at Roksanda Ilincic. She made the two lines meet in a gently curving, triangular point just above the outer eye corner, which reminded us of the shape of kittens' ears.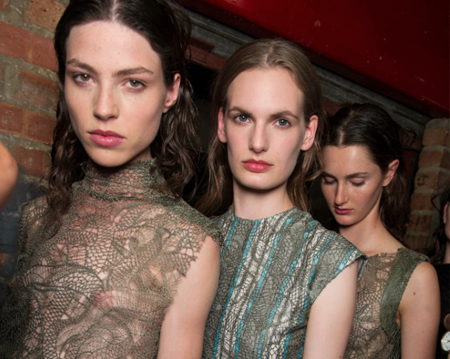 WAVES, WAVES EVERYWHERE
If winter is the time for sleek styles, summer is when we can break out the waves. At both Todd Lynn and House of Holland, waves added a hint of barely-there movement to long, luscious hair. Then, one rainy LFW morning, we were transported to Miami for Anthony Turner's sea-swept summer style he called 'dewy waves'. Simply prep damp hair with L'Oréal Professionnel Techni Art Pli Thermo-Fixing Spray, braid, clamp between hot irons then let loose before sectioning your demi-wet waves into a tomboyish side part.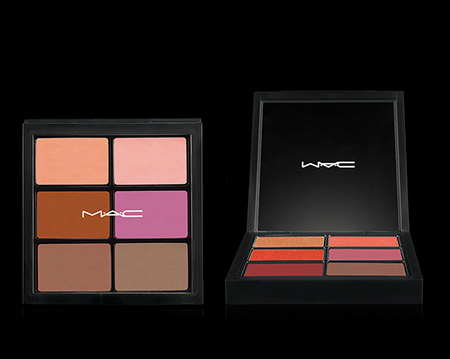 KEEP YOUR EYES PEELED FOR...
It wouldn't be Fashion Week without some sneak previews of forthcoming products. MAC's SS14 Forecast Palettes for Lips and Eyes – seen here, there and everywhere at LFW - have just landed in stores. One look at the taupes, mochas, pretty pinks and corals and you'll be bang up to speed on next summer's key shades.
When it comes to hair, L'Oréal Professionnel's new paint-on HAIRChalks in a rainbow of shades from pink to green, blue and violet were showcased spectacularly at Ashish and Felder Felder prior to their launch in November. But it was a textural twist on a beauty classic that really caught our eye. Fans of NARS Multiples rejoice because shimmering Orgasm, Copacabana and Lamu will soon come with a new finish. Yes, the Matte Multiple is on its way next spring. Chic, sophisticated and fantastic for cheekbone contouring, they stole the show –and our hearts – backstage at Erdem.