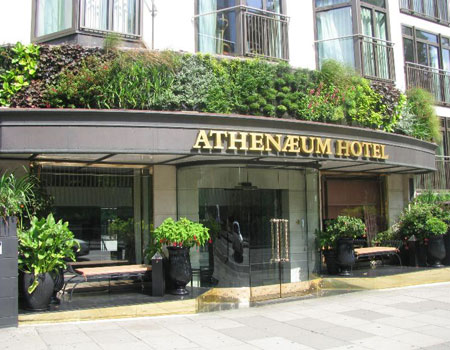 Like most women, I've always wanted longer lashes, but until recently I thought the only way to get them was with fiddly falsies that – in my experience – are often more hassle than they're worth. I wanted a dramatic effect that looked more natural than stick-on lashes, and that I wouldn't have to spend hours trying to apply myself. I decided to try lash extensions for the first time, and went to pay the experts at The Athenaeum Spa a visit.
The venue
I arrived at the beautiful Athenaeum Hotel (which is in the most amazing location, a minute's walk from Hyde Park Corner and overlooking Green Park), and was quickly directed to the spa downstairs. Despite the grandeur of the hotel, the spa is actually a lot cosier than I expected, with an unfussy décor that is minimalist without being at all clinical.
I was given a seat in the lobby area, which is where my treatment would take place. An unusual setting perhaps, but the area is more private than it sounds and quite cosy, with soft lighting and a comfy bed that would accommodate me for the next two hours.
I was offered a drink (there's an entire table devoted to flavoured waters) and asked to fill in a safety form before getting started.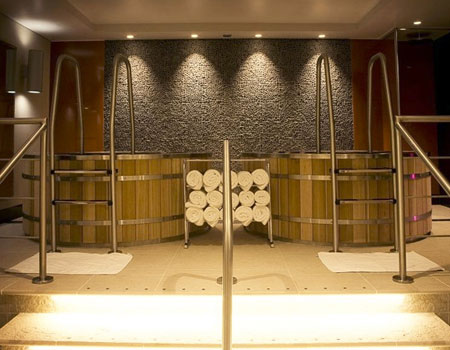 The Athenaeum Jacuzzi
The treatment
My treatment began with a quick discussion about the kind of look I was hoping to achieve, as the Lash Perfect Lashes come in a variety of curls, lengths and thicknesses, so pretty much anything is possible. The lashes themselves are thicker than most people's natural eyelashes and dark, so I didn't have to worry that my slightly blonde lashes hadn't been tinted beforehand. 
I was then asked to find a comfortable position on the bed, which I did easily – lucky, as the treatment was a lengthy and thorough process!
The application began by placing a pad over my bottom lashes, covering the tops of my cheeks to make sure the top and bottom lashes were kept completely separate. My therapist, Emma, then brushed and cleaned my lashes to get rid of any bacteria.
Satisfied that my lashes were bacteria free, Emma got to work on the precise (and slightly arduous) task of attaching a synthetic lash to each of my individual lashes. The process is very technical and actually very artistic, as each lash has to be styled to look natural, with the longest lashes positioned on the outer edges and smaller ones on the inside. 
As a contact-lens wearer, I was pretty comfortable with someone touching my eyes, but I imagine that the sensation can be a bit disconcerting to those who aren't used to it. The important thing is to relax and the soft music and tranquil surroundings at The Athenaeum definitely help with that. I was surprised to actually fall asleep after about twenty minutes, but when I came round (feeling a little embarrassed) Emma reassured me that this is very common and actually beneficial to the treatment as it's easier to work on completely still clients.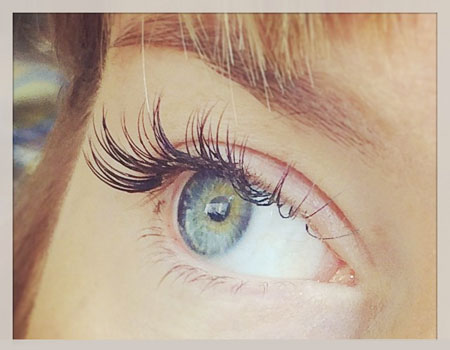 The results
The results
After two hours of relaxation I was thrilled to see my new lashes. I was amazed at how long they were and how natural they looked and felt – although I could feel them blowing in the wind a little as I walked out, which was a new sensation for me.
The look is so dramatic that I've since abandoned my usual heavy eye shadow and liner for a fresher and more natural look that opens up the eyes. Of course makeup can still be worn after the treatment, but mascara really isn't needed and (for the sake of preserving your lashes for as long as possible) shouldn't be used.
The lashes are semi permanent and with regular infills (every 2-3 weeks is recommended), they can last up to 8-12 weeks. This also depends on your natural lash growth cycle. I followed all the aftercare tips I'd been given (not wetting the lashes for the first 24 hours, not using oil-based face products or cotton wool, and keeping them brushed and tidy to avoid waking up with eyelash bedhead), and without any infills mine stayed in place for about five weeks, which I was amazed and delighted by. I noticed the odd one falling out now and then, but since every lash is at a different stage in its cycle (roughly 28 days) this can't be helped, and isn't a problem.
I was so impressed by the treatment and happy with the results I will definitely have it again - in fact, I can see myself getting a little addicted. The usual cost for the set is £110, but The Athenaeum Spa is currently offering the treatment for £60. Factoring in the money I saved not using mascara, the time I saved in the mornings and all the compliments from friends and colleagues, I'd say it's beyond worth it.