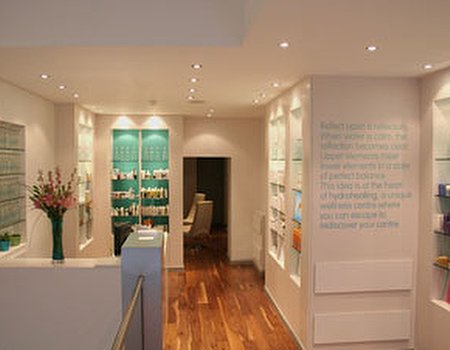 With spring finally here and summer on it's way, it's time to think about popping those pedicured toes into flip flops, layering on the sunscreen and heading out into the great outdoors. If you're hoping to look trim this summer without hitting the gym, then you'll be happy to hear we've found a relaxing way to get bikini-ready this year. Who said it had to be hard work?  
The venue
hydrohealing is a friendly salon and day spa in London's trendy Notting Hill, a short walk from both Notting Hill Gate and Ladbroke Grove tube stations. Specialising in water-based therapies and wellness treatments such as colonic hydrotherapy, hydroblitz and detox treatments, this day spa also offers a range of facials and beauty treatments. Led by two dedicated healthcare professionals, Amo and Vim, with the support of a team of doctors, wellness practitioners and spa therapists, this is one destination that will suit everyone's needs.  
The treatment
I was booked in for the one hour hydroblitz treatment which involves using massage therapy and water spray to eradicate cellulite, nourish and tone skin, and re-sculpt the natural contours of the body. The receptionist was extremely nice and after filling out a medical form (making sure I was suitable for the treatment) we had a short consultation together to discuss my main concerns: a little cellulite on the buttocks and thighs and a tendency to stock fat on my hips and tummy. I go to the gym about four times a week but my skin is still not as toned as I would like it to be, especially on these areas.
My therapist asked me to lie down on a plastic bed – not as uncomfortable as it sounds – while she talked me through the full process. When we began I was pleasantly surprised to find the water was warm and the treatment very relaxing. As well as the water spray, my therapist gently massaged my legs, back and arms using a nourishing oil and applying pressure to all the right places. Bliss.
The results
It was my first ever Hydroblitz, but after the 60 minute treatment I already felt my skin was different. Softer, more toned and, on closer inspection, my cellulite seemed to have reduced! I was so delighted that I went back to book a six treatment course to get me ready for the beach…
The salon manager had a chat with me at the end of my treatment to introduce me to their other therapies and encouraged me to try a facial or even colonic hydrotherapy next time.
I walked out feeling fitter, fresher and firmer. I highly recommend the treatment and I recommend having it at hydrohealing. Although the décor is slightly clinical, the atmosphere is warm and comfortable. A great place to be pampered.