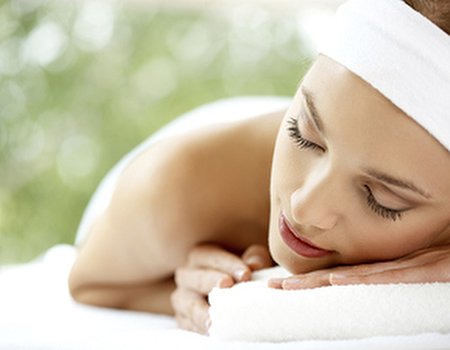 Feeling worn out and in need of a massage? Sometimes we all need to take time out and relax, and what better way to wind down before the weekend than with a full body massage. With a sore back, tired legs and overused arm muscles, a massage to soothe aches and pains was just what the doctor ordered. Cue Splash Soho coming to the rescue with their one hour full body massage. 60 minutes later and things were feeling OK again...
The venue
Situated a stone's throw away from the hustle and bustle of London's busy Oxford Street, Splash's Soho is located in a fabulous part of town and is very easy to find. After pushing through the Friday night queue of customers, I was greeted by my therapist Janet with a warm and friendly smile before being led downstairs to a relaxing treatment room, which was dimly lit with candles, soft music and a sweet smell.
The treatment
Sampling a one hour full body massage, I was left to hop on to the comfy bed and snuggle under the super-soft blankets. Janet started by massaging my legs and feet, taking care to do one a time while tucking the other one into the blanket to make sure I wasn't cold. Working her way up from my ankles to the top of my thighs, focusing on my calf muscles and sore knees, this felt like pure heaven after a long week. A mixture of long strokes and quick rubbing melted away those aches, and she made sure to ask how it felt so that the pressure was just right and not too hard on my muscles. After massaging each leg, she used her hands in a fist-shape to rub away my foot pains. All say 'ahhhhh'...
After working on my bottom half, Janet began massaging my sore arms and went right down to my fingers – this was pure bliss after typing away at a keyboard all week. Once she had finished, I turned over and my legs were once again kneaded and rubbed, before my back, shoulders and neck were expertly massaged to perfection (a few cracking noises were heard too– oops!). The icing on the cake? The head massage. It almost sent me straight to sleep. This was pure luxury on a Friday night.
The results
The massage really worked a treat and when she finished my head massage, I was genuinely saddened to know that my hour was up. Janet could feel that there was a lot of tension in my legs and shoulders and I could feel her using extra pressure to dig out those knots and make me feel great again. She made sure I was happy at all times with the way she was massaging each area and I was more than happy for her to work her magic. In such a central location, Splash Soho is the perfect venue for any treatment – and from the queue at the door, this is definitely a well-loved London gem.