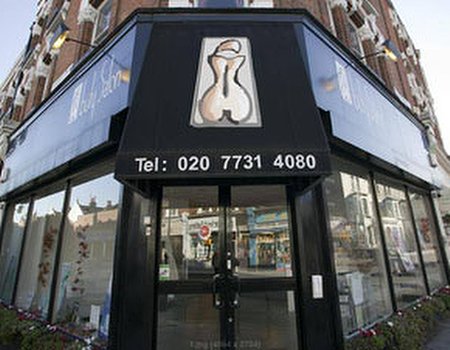 Been hearing the phrase 'new year, new you' quite a bit recently? With the start of each New Year comes the thousands of resolutions and changes that we promise to ourselves, that this will be the year we make that difference. Whether it's to stick to that new exercise regime or vowing to keep away from the chocolate tin (it's just so difficult isn't it?), there's never been a better time to try a detox package...
The venue
Buty Salon is on the corner of Fulham Road in the heart of Fulham, South-West London, easily accessible by tube and only a short walk to Parsons Green station. Deceptively spacious, the reception area is light and spacious with large windows, light coloured sofas and a water feature - making it the perfect calm and relaxing atmosphere. I was quickly greeted by my therapist who was very friendly, approachable and efficient.
The treatment
My treatment room was one of many, and I was ready to try out the Decleor Ultimate Detox Package which includes two treatments: G-5 massage and Decleor aroma wrap. The first treatment is a 30 minute long mechanical massage where several vibrating heads are used throughout the treatment, starting with lighter vibrations and increasing the intensity towards the end. The therapist can vary the pressure too – which has a big impact on the intensity of massage.
Deep tissue massage was performed on the back of my legs and buttocks to break up fatty deposits and stimulate the circulation to help remove toxins. One thing to note - this treatment is not best suited for those who are prone to thread veins or broken capillaries because such a deep massage may cause further damage to these. This was a big concern to me and I discussed the issue with my therapist prior to treatment, and we agreed that she would apply less pressure (as I still wanted to experience the full treatment). The massage felt ever so slightly uncomfortable at times, but I was reassured that this was normal in order to produce visible results.
The second part of the package was the Decleor aroma wrap which is a longer treatment (lasting over an hour) and consists of a scrub, manual massage and the actual wrap itself. The full body scrub and massage are very thorough and vigorous, and aim to break down fatty deposits further and reduce cellulite through lymphatic drainage massage and stimulation - I felt like I could almost feel it working already.
Finally, the wrap is a rich sea algae and pepper based mask which was applied all over and followed by being enveloped in cling film and a heated blanket. I was told that the Decleor products contain essential oils to help breakdown fatty deposits, while the wrap delivers further detoxifying benefits such as reduction in water retention and also enriches the body with minerals absorbed from the mask. As an added bonus, a choice of luxury head or foot massage was offered to round the treatment off and make it an extremely relaxing experience. I was in heaven! After the earlier intensive massage, my body was soothed and relaxed in this warm wrap, before I had to (unfortunately) wash off the mask in a separate shower room. The finishing touch? Being slathered from top to toe in rich Decleor moisturising cream...
The result
When I came back up to the salon's reception after my treatment I felt extremely invigorated, very relaxed and wonderfully light, maybe even with a feeling of floating. I literally felt ten years younger and I'm certainly not complaining - it's obviously a great result! My skin was very soft and definitely looked more toned, and the combination of massage with the wrap certainly resulted in greater benefits than if each of these treatments had been done individually. It's a 10/10 from me!
If you'd like to experience the Aroma Detox Envelopment treatment at Buty Salon then hurry, hurry! There's 30% off until the end of February 2013 (bringing the price down to just £75), and when teamed with the G-5 Massage, you'll be gliding down the street in no time...