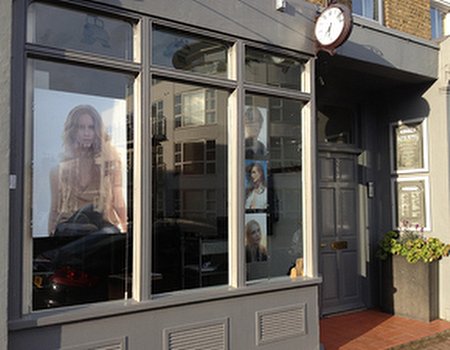 There's no beating that 'just stepped out of the salon' feeling, however I must confess that when it comes to hair maintenance I'm pretty lazy. The last time I got a haircut was back in January and six months later I was on my way to becoming John Rocha's doppelganger (a strong look I'm sure you'll agree). Something had to be done. When I was offered the opportunity to take a trip to the charming Chez Stephan's in Putney I jumped at the chance. A salon that fuses its passion for hairdressing with a love of art and wine, sounds interesting, right?
The Venue
A short walk from Putney Station and just off the bustling High Street, Chez Stephan sits on Lacy Road (a cute street with a few pubs and independent restaurants and cafes). I initially strolled past the venue as I failed to spot the sign, but once I was inside I was given a very warm welcome.
The salon itself is light, spacious and contemporary in design with selected art pieces installed throughout. There's also a fantastic array of wine on display in the reception area. It is Chez Stephan's mission to bring the best French wines to London and make them available to their customers to consume before, during and after an appointment.
For Chez Stephan it's all about creating a cultural experience while getting your haircut, something they achieve without any pretense – a very refreshing change.
The Treatment
After receiving my welcome, I was taken straight to the back of the salon to have my hair washed and receive the conditioning treatment. At first I was a little thrown as I'm used to receiving a consultation prior to hair washing, however they do things a little differently at Chez Stephan's - which is no bad thing.
The hair washing was lovely and relaxing especially as I was seated below a skylight window, able to watch planes flying overhead. The conditioning mask was applied and my hair was wrapped in a hot wet towel for five minutes to activate it. I had never experienced this before, but I loved it. It felt like a hug for my head.
Once the treatment was complete I was introduced to my stylist, Benoit (a charming Frenchman), and we discussed what I wanted. Though the John Rocha look wasn't quite working for me I didn't want to lose much of the length, just enough to give it some style and shape again. I explained all this and with a leap of faith (always the case when dealing with a new stylist) let Benoit get to work.
The result
I was very impressed with the results of the conditioning treatment - my hair had the kind of shine I thought you only see in shampoo adverts – and really liked the cut Benoit gave me. I walked away feeling happy and swishing my hair as I went.
The team at Chez Stephan are so warm and friendly that their customers can't help but feel relaxed when visiting their salon. This atmosphere combined with their genuine talent and passion (and impressive wine collection) makes this salon well worth a visit. A great experience.