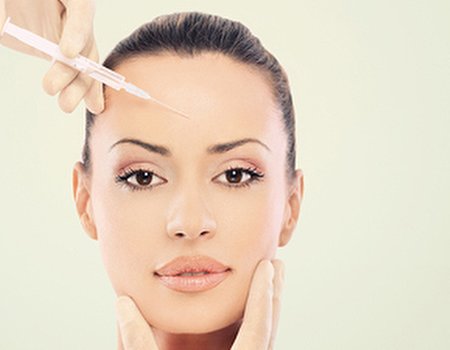 Back in my early twenties I was sure I'd never even think of having cosmetic injectables, and that anyone who had these sorts of treatments was lacking the self-confidence to grow old gracefully. I was convinced that I would embrace the ageing process with open arms. In short, I was a bit of idiot in my 20s.
It's an easy assumption to make when nights of little sleep and loads of booze barely dent your dewy, youthful complexion. When you don't wake up in the morning with pillow lines down your face and looking 'natural' doesn't take an hour, industrial eye-bag concealer and a cement mixer. As soon as my early thirties hit and the first lines started to show (furrows on my forehead and 'number 11s' between the eyes that made me look permanently angry) I realised how dismissive I had been. Worse than that, I felt self-conscious, anxious and frumpy.
Thinking about this kind of treatment can be nerve-wracking, I've read plenty of horror stories and watched enough episodes of 'Real Housewives' to see where it can go wrong and how fine the line is between natural and comical (excuse the pun).
The venue
By the time I sat in the waiting room at Vagheggi's Harley Street clinic I was more than a little nervous and became even more so as the nurse, Libby, led me to her room in the basement. We sat down and I started to relax. The room was almost like a living room rather than a surgery, with a welcoming seating area for consultations and a treatment couch on the other side of the room.
The Treatment
Libby started by giving me a quick history of the anti-wrinkle injection which, I learned, began as a treatment in 1980 for crossed eye syndrome, uncontrolled blinking and excessive sweating. After clinical trials it was approved by the American FDA in 2002 and soon gained popularity as a less invasive alternative to surgery.
We talked through what I wanted out of the treatment - essentially to prevent future lines and look a bit brighter and less frowny in the meantime. Libby asked me lots of questions to make sure I understood the treatment and its limitations. She was incredibly thorough, honest and caring and really put me at ease.
Once Libby knew my expectations she took me through all the risks and possible side effects. I really appreciated the way she approached this: matter of fact and honest, with no hard sell. Libby didn't try to underplay the risks and answered all my questions honestly. The risks fall into two main categories. The first is at the injection site and includes bruising, bleeding, swelling and infection (often caused by dirty make-up brushes). There are also risks in the use of the drug itself which affect around 3% of users. These include muscle dropping (usually affecting older patients whose muscle tone isn't strong to begin with), headaches and flu-like symptoms.
Having gone through all the pros and cons Libby asked if I still wanted to go ahead. I weighed up the risks I decided I did. Lying down on the treatment couch, Libby got me to pull lots of different faces to understand my muscles. The first two injections were in the 'number 11s' and I barely felt them. In fact, throughout the treatment, the only ones that were slightly painful were the two around the outer eye. Even then the pain was fleeting - far less than a bikini wax!
The whole thing was over in a matter of minutes and I sat down again while we went through a thorough aftercare plan. Libby told me I wasn't allowed alcohol for two hours (not a huge issue as it was 10.30am on a Tuesday). I had to refrain from lying down for four hours and avoid going for facials and massages for a fortnight.
I was impressed with the aftercare advice too, and the added security that Vagheggi follow up all appointments with a phone call from a nurse to ensure you're OK.
The results
By the time I'd walked back to the office, I was left with a barely noticeable redness on my face. The area did feel tight and by the end of the day my forehead and eyes felt tense, as though I'd been crying a lot.
This disappeared overnight and within 48 hours I noticed I was looking slightly fresher and my eyebrows were slightly lifted. Nothing obvious, a very subtle change - my partner hasn't noticed. 3 days later I went out with a friend who's a dermatologist, she told me how fresh I was looking and asked for product recommendations. I came clean and she was amazed. After a quick examination of my face she said what a great job it was. High praise indeed.