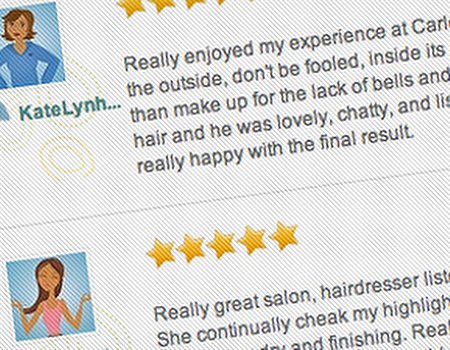 Since launch, Wahanda has encouraged members of its online community to review beauty services that they have experienced at venues on the site. These reviews provide a useful resource for other consumers trying to decide where to go and what treatments to have, but also help them to discover little known venues offering high quality beauty experiences (which Wahanda call 'Hidden Gems').
With the evolution of Wahanda's appointment booking service, venue reviews are proving an invaluable sales tool for beauty businesses - both big and small - to attract new clients. In fact, businesses listed on Wahanda that have 10 or more positive reviews (rating them at four stars and above) generate more interest and receive twice as much traffic to their venue page.
Founder and CEO, Lopo Champalimaud, encourages beauty businesses to embrace the review platform. "Having a strong collection of positive reviews can be the driving-force behind a consumer's purchasing decision, acting as a catalyst to people actively seeking out your specific spa/treatment, building your reputation and, in turn, boosting sales. They are also a great way to incentivise staff and to strive for higher standards and improvement."
One salon owner using Wahanda's review platform as a tool to keep staff motivated is Jason Keogh of Gravity Hair & Beauty in London's Notting Hill. "Clients want to trust the salon they're going to, so once they read the reviews on the Wahanda site, they come to us with confidence that they are going to have a great experience. It also keeps our staff on their toes as we incentivise them on good reviews - every client needs to have a perfect journey, whatever treatment they are coming in for".
With the rise of digital sharing (via social networks such as Facebook and Twitter) and a growing number of online review sites, it's worth remembering that word of mouth now spreads much further and feedback has become far more visible.
It's no secret that within the beauty services industry there is a nervousness and distrust that surrounds reviews, and in particular, negative ones. They are frequently seen as biased or unfair and companies would often prefer they weren't visible. Reading criticism about your business is hard, but this feedback can actually be useful and there are benefits to publicly addressing any concerns clients raise.
"A negative review can be valuable too," adds Champalimaud. "It provides honest feedback and helps you focus on areas that need improvement which can be vital to help you develop the business."
As a service provider you can actually improve your reputation by visibly engaging with unhappy customers. Use the opportunity to find out just what went wrong and show your keenness to put things right.
Bad reviews needn't be a blemish on your salon's reputation as long as you address them quickly, thoughtfully and aim to rectify the situation. An ill-judged response (or lack of one all together) will often look worse than an apology. Be polite, fair and understanding, especially if you were not present when the client visited the venue.
"I would recommend constantly monitoring what's being said about your business and, just as crucially, reacting to it," said Champalimaud. "Whether it's feeding back positive comments to the team to help boost morale, or dealing with issues that need addressing, this can be done quickly and efficiently by keeping up with reviews to use it as the most positive tool possible".