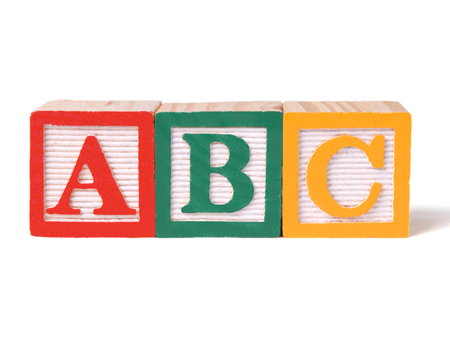 As I was writing this article about KPIs, I was reminded of various subjects we studied at school. Naturally, as I am using words to communicate I thought about English. In putting together the free resource at the end of this article and in explaining some of the tips and advice, I had to use some basic maths. What surprised me though, was how geography and sports also were involved...
When I think of geography, I tend to think of maps. Maps help you to get to find your way and get to where you are going. However, if you don't know where you are now, then even with the best map in the world, you would still be lost.
What you need is some type of marker; a stake in the ground that tells you where you are, or in this case, where your business is right now. This indicator is going to help you measure your business performance as it looks right now. We will call this your Performance Indicator.
What exactly should your Performance Indicator measure? Well, this is where most people fall down. You need to identify something easily measurable that you can record and track over time.
You could chose:
How many hours you spend at your salon
How many times your phone rings each day
How many clients each day visit your salon for a treatment or service
The number of clients visiting your salon each day is a much more important indicator of performance than the number of hours you spend at work or the number of times your phone rings. This higher importance makes it a "Key" Performance Indicator.
That is really all a Key Performance Indicator is: a measure of an aspect of your business that with focussed attention, can positively affect your overall performance.
Depending on where you are in your salon business journey - whether you are about to open, have been open for one year or even 20 years - will have an effect on what KPIs are the most appropriate for you to focus on. This is the most difficult part; knowing what to measure, when to measure it and what to focus your attention on now.
Hopefully I can help. The exact KPIs to measure and focus on are unique to you and your business, there is no magic formula. Below are five tips to help you identify and measure the KPIs that are most important to your business right now.
Keep things simple
Measure and record a maximum of seven KPIs to start with. Focus on improving just two of these at a time. Set yourself a goal to reach for these two KPIs and make sure your team know about them. Once you reach one of your goals, focus on improving another one of your KPIs. Keep tracking all seven to make sure you don't start to drift backwards on goals you have already reached.
First things first
Make sure you are measuring things in the right order. I often find salon and spa managers measuring how many hours each of their treatment rooms are occupied for, when they have fewer therapists working than they have treatment rooms. It would be far more useful to measure how many hours each therapist spends earning money. Then you can take on additional therapists to fill all the rooms you have available. Only when your therapists are busy earning all the time and filling all your rooms should you worry about your room occupancy levels.
Have a Procedure
Create a simple way of recording your basic KPI information on a daily basis. Doing this daily will not take a great deal of time and should quickly become part of your daily routine. Whether you record the information in a notebook or straight in to a spreadsheet, doing this daily will ensure the task never becomes daunting. At the end of the week or month, add these figures up and enter them in to a spreadsheet so you can compare then with your previous performance. (See below for a fantastic resource to help you get started with this)
Software will save you time
You may already have some form of management software in place. If so your work should become far easier. Find the reports that give you the basic information you want to measure. You will probably need to use a few reports to produce all the KPIs you are tracking, but it will save you having to record the information daily. If you don't already have software in place and it has been the price that has put you off, Wahanda have a fantastic solution. Wahanda Connect now comes with a reporting and analysis feature and best of all it's completely free.
Small things lead to big results
Sometimes just a small improvement to your daily indicators can lead to huge gains over time. Say a popular treatment in your salon is the classic 'Back, Neck and Shoulder Massage'. It lasts 30 minutes, costs £34 and you average about five or six of these a day. If you do just one more of these treatments every couple of days this will be a 10% increase in the number you perform each month. This alone generates an additional £6,528 per year in takings. If at the same time you increase your price by just £1 to make the treatment £35, you would increase your annual takings by £8,640. Not bad!
The above tips should get you well on your way to identifying, measuring and improving your KPIs. Still need a bit more guidance? No problem. To get you started I have prepared a simple spreadsheet with some classic KPIs. Just download the spreadsheet, enter your own monthly figures and it will work out your KPIs for you. Click here to download the spreadsheet.
Just remember, it is not enough to simply record this information, the point is to put effort in to improving your selected two KPIs. I said at the beginning of this article that among the school subjects I was reminded of, one of them was sports. In school sports lessons we didn't play football blindfolded, we knew where the goal was and where to aim the ball so you could score and your team could win. By identifying your KPIs and using the spreadsheet to track your improvements, you'll be able to reach your goal and watch your business win.