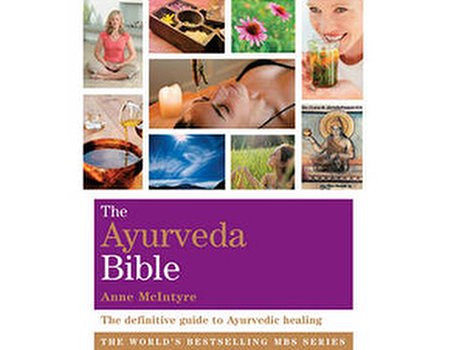 Welcome to the new Wahanda Book Club! With so many health, diet and exercise books on offer out there, we thought to ourselves - what could be better than having a dedicated blog where we bring only the best books to your attention? We're hoping to become the health and wellness equivalent of Richard and Judy, maybe....
Our first book is The Ayurveda Bible, and if you've ever thought about re-thinking the way you approach your whole lifestyle then this book is a real gem for your bookcase. The ancient Indian practice of Ayurveda offers recommendations on diet, lifestyle and exercise to promote a feeling of wellbeing and to rebalance the body when feeling unwell. Completely natural, this old system is a modern way to de-stress and enjoy a brand new you.
Who wrote it?
The author is Anne McIntyre, a leading medical herbalist, who has practised medicine using herbs for over 25 years. Specialising in health and fertility problems, the tradition of using herbs and plants to promote a healthy lifestyle to both women and children is her passion. With an impressive herb garden in her own home (which is regularly featured on the BBC) and her wide ranging experience in harnessing the natural powers of plants, Anne is one of the leading writers in natural healing.
What's it all about?
Ayurveda, Sanskrit for life (ayur) and knowledge (veda), is a holistic system of wisdom that has evolved over five thousand years. Combining diet, herbs, exercise, meditation, yoga and massage, the Ayurveda Bible looks at how simple relaxation techniques and a healthy diet can help to prevent and treat disease.
How to live a healthy life and reach moksha (enlightenment) is the key to Ayurveda's psychological and physiological routes of beliefs. By looking at individuals' lifestyles and the particular balance of your three doshas- vata, pitta and kapha; Ayurveda encourages a system of health and happiness.
With detailed recommendations on how to treat common complaints with specific massages, food and herbs, the book outlines Ayurveda as an easy to do and natural way to aid your body by using Mother Nature. You can choose to browse by the balance of your three doshas, or by a particular health problem, and the ways to re-balance are provided concisely and clearly.
What did we think?
The Ayurveda Bible is the definitive guide to Ayurvedic healing. With easy-to-follow chapters offering advice about the best ways to keep ourselves healthy through diet, lifestyle and exercise, the fundamental principles of Ayurveda and treatments for common ailments are available in simple chapter form for easy-reading. Helpful images break up text, and separate chapters focus on teaching the looks and properties of different herbs or help overall health and mind satisfaction.
Priced at £13.99, this guide is a great way to introduce yourself to a new way of living and fresh thinking on how to swap pills for herbs. After thousands of years of everyday practice, Ayurveda must be doing something right to have stood the test of time...