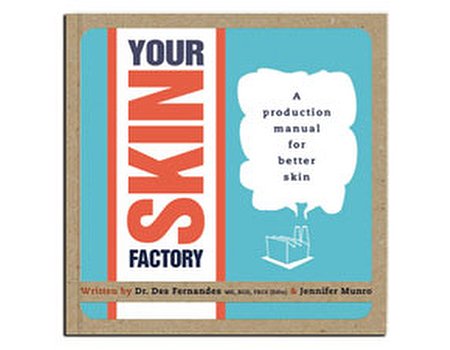 In Your Skin Factory, Dr Des Fernandes and Jennifer Munro aim to explain to the world, in comprehensive terms, the best and simplest ways to look after our skin. Whether it's spots, wrinkles or even cancer that worries you, this 'production manual for better skin' uses the metaphor of skin as a factory to explain simple ways to improve it. Not just helping skin look or feel better, this book aims to help skin be better through use of basic science and a bit of vitamin A, rather than expensive facials or serums. Sounds like what we've been searching for our entire life…
Who wrote it?
Dr Des Fernandes is a plastic surgeon specialising in cleft palette repair and facial and neck cosmetic surgery in South Africa. He was deeply affected while treating two teenage patients who subsequently died from skin cancer, and became dedicated to finding an effective way maintain healthy skin and treat sun damage, setting up skincare brand Environ.
He met Jennifer through a mutual artist friend (who just happened to have painted both of them in the nude). Amazed by the efficacy of his products Jennifer, a writer and marketing consultant, was frustrated at how hard it was to explain the science behind the products - especially while in competition with bigger cosmetic brands: "I just wanted to share this simple but special message with everyone, and so I wrote Your Skin Factory to do just that."
What's it all about?
Your Skin Factory attempts to demystify the complex scientific studies behind good skincare practise and detract from some of the high budget marketing and advertising that sell other, less science-based solutions. Aimed at 'the ordinary consumer', the book is designed to be as reader friendly as possible, explaining exactly how skin works in easy to read terms (explaining the importance of blood vessels, for example, as "Duties: deliveries, waste removal") and peppered with colourful diagrams and before and after images.
But, it's not just a science lesson. As well as explaining what goes on in and under our skin, the book offers plenty of advice on what skin needs to be fit, healthy and younger looking (eg on skin peels: "light repetitive peels are preferable to torturous heavy ones"). Dr Fernandes is a firm believer that "Ageing skin in not inevitable, damage can be reversed."
Among the advice, a large portion of the 100-page book is devoted to the benefits of vitamin A in skincare, a matter close to the heart of Dr Fernandes, who is regarded as one of the world's leading authorities on the matter. One of the book's key messages is how this often overlooked ingredient (believed by many to irritate the skin) can be used to improve scarring and reverse the effects of sun damage .
What did we think?
Last week we went along to the Your Skin Factory launch and, after a presentation about the book itself, took part in a Q&A session with the author. Hearing Dr Des (we're on first name terms now) recount his experiences of using vitamin A to treat skin conditions (many of them cancerous) in South Africa we were convinced. Dr Fernandes not only knows his stuff (reeling off case studies and statistics to corroborate every point) he is also deeply passionate about effective skincare and, particularly, vitamin A.
The book itself is certainly unique. A quick flick through the diagrams, fast facts and some graphic before and after pictures could leave you thinking you've picked up a biology textbook, but on closer examination the contents of are incredibly detailed, and also also pretty fascinating.
The factory metaphor makes for a logical approach to explaining the science behind sin ("The final product in the Showroom can be healthy and plump, or sad and thin, depending on raw ingredients and the health of the machinery below") however, perhaps since we're actually more familiar with reading about skincare than factory work, it wasn't always quite as straightforward as we had hoped. Despite having to give the odd page a second read, the message got though: ageing is not the end, good skin is about more than expensive creams and we are in charge of the way our skin looks. On that note, we're off to buy as many vitamin A supplements as we can carry.