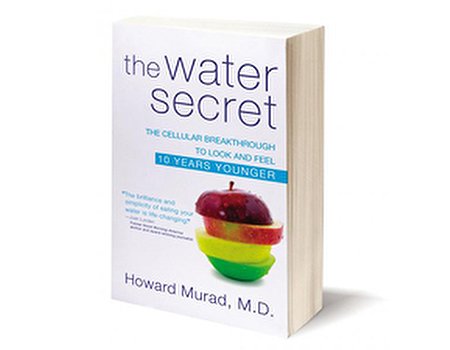 The Water Secret claims to hold within its pages the key to taking control of the ageing process by improving the health of every cell in the body. Based on the belief that the secret to good health and a youthful appearance lies in the ability of each cell membrane to hold water, the book explains Dr Murad's strategy for optimising cellular strength with a 10-step action plan, complete with meal plans and delicious recipes.
Who wrote it?
Dr Howard Murad is a world-renowned dermatologist, trained pharmacist and Associate Clinical Professor of Medicine (Dermatology) at the Geffen School of Medicine, UCLA. He has been hailed a beauty genius by ELLE magazine, one of the world's most forward-thinking doctors by Vogue and the 'Father of Internal Skincare' by the International SPA Association. Murad has published four books encouraging practical lifestyle choices to look and feel your best.
What's it all about?
The Water Secret is, in very simple terms, all about looking at water differently and using it to clear skin, prevent wrinkles, boost energy and promote better overall health.
The book begins with an introduction assessing the wellness of the reader and outlining the basics of the programme, and the importance of water. Many healthy minded readers might already know a lot of this, but Murad's concept of eating water as well as drinking it was a bit of an eye-opener to us.
When we drink lots of water it doesn't stay in our system for long before we need to go to the bathroom. Eating water from things like vegetables (a cucumber is 97% water), wholewheat bread (a third water) and roast chicken (65% water) is, according to Murad, a better way of consuming water.
Of course what you eat, how much you eat and how you prepare it are all key factors which brings us on to the next part of the book: Ten Simple Steps to Living by the Water Secret. The ten steps range from health tips like eating water (got it) and exercise, to lifestyle and attitude tips like 'Try Something New, and Work with Your Passions and Talents as Much as Possible'.
The rest of the book recommends more lifestyle changes that support Murad's programme including further dietary and skincare recommendations, 'What the Fittest People Know that You Don't' and how to combat cultural stress.
What did we think?
Well Dr Murad has certainly succeeded in turning our world upside down. We've been trying our best to drink eight glasses of water a day pretty much ever since our first teenage breakout and here is a book telling us that the need to drink this much water is a 'sham'.
Once we'd got over our initial shock we wanted to learn what this 'eating water' is all about and were delighted to discover the book was full of interesting and well-explained scientific facts and theories that actually inspired us to make some changes.
We've tried making life changes in the past and learned that it's much easier when someone else tells us what to do and when. Murad's ten step guide and ten day eating plan does exactly this. The advice is clear, inspiring and easy to follow and the recipes are simple and delicious.
The only department in which this book is lacking is pictures. At a first glance it looks a little text heavy and a few photos of the completed recipes might make readers a bit more excited about embarking on this new eating plan. Although most of the books we read these days don't have pictures, and now thoroughly convinced by Dr Murad's approach to water we're already pretty excited about giving it a go.
The Water Secret is available from www.murad.co.uk for £12.99.