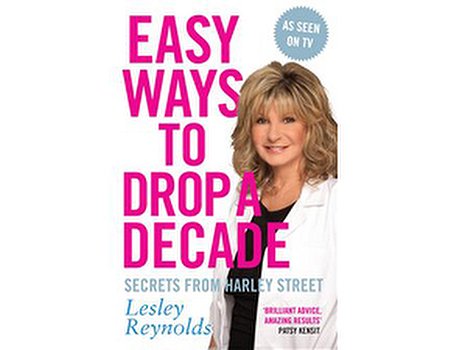 Easy Ways to Drop a Decade, Secrets From Harley Street promises to hold the key to looking young for longer. That's quite a promise, we're sure you'll agree, and with so many books and products on the market that promise the same thing but fail to deliver it's easy to be sceptical. But with a celebrity following and expert advice, there's something that sets this book apart from the others – and it's not just the catchy title.
Who wrote it?
Lesley Reynolds, co-founder of leading Harley Street Skin Clinic, has spent 20 years in the beauty business, helping women from all walks of life to look younger for longer. Having been inspired by her grandmother's wartime homemade skincare products and cosmetics, her aim is to expose beauty myths ad teach women her own tried-and-tested methods to maintain, improve and care for skin.
What's it all about?
Throughout this book, Reynolds does everything she can to revolutionise the way women think about skincare. She begins by guiding her reader through decades of her own experiences of her skin and skincare, letting younger readers know what to expect and providing tips and tricks at any age.
Over the next few chapters, Reynolds begins revealing her secrets of youthful looking skin, from the importance of self-confidence and how to look after and 'Love the skin you're in' to general advice on health and well-being to telling 'The truth about miracle creams'
The rest of the book deals with making skin look younger from top to toe. Covering face, assets (ahem), arms, hands, midriff, back, bottom and legs, Reynolds explains what happens to our body as we age explaining in simple terms treatments available as well as at home tips like how to buttock clench in the supermarket and the importance of exfoliating your décolletage.
What did we think?
Here at Wahanda we see, hear, read and test a lot of things that promise to help you look younger and we have to admit they don't always impress. This book, however, did.
Reynolds is completely honest throughout this book and her no-nonsense attitude is convincing and contagious. She does not believe that we ought to be spending a fortune on extravagant products or invasive procedures – which is something all women want to be told.
Her at home tips are things that women of any age and with any budget can benefit from. While we probably won't test out all of them – rubbing egg yolk into your face didn't really appeal – Reynolds' tips and tricks are so much more do-able than advice offered by other experts reading them makes the reader feel quite optimistic, which is quite a rare feeling when it comes to the subject of ageing.
It's refreshing to read something from a skincare expert that makes caring for skin seem so simple. We also loved Reynolds' tone throughout the book. She never tells her reader off for poor skincare, but is thoroughly encouraging throughout. She also understands that not every reader is an expert or scientist and explains all her reasoning clearly – as well as providing a glossary of anti-ageing.
Easy Ways to Drop a Decade is a great book to begin the new year with and much less complicated than a time machine.