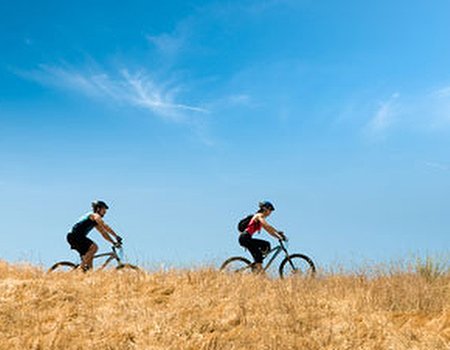 Spring is officially underway, and as well as updating our wardrobes and banishing those thick winter coats for a few months, we're starting to think about giving our fitness regimes a new lease of life for the warmer weather.
The dark and chilly winter evenings don't do any favours for exercise morale in general – let alone persuade us to work up a sweat outdoors! However, with the longer, milder days on their way, we've highlighted some great ways to make the most of the outdoors while keeping fit and healthy.
Take a swim in an outdoor pool
We might not get sunbathing weather all summer here in the UK, but that doesn't mean you can't take an exhilarating dip in a heated outdoor pool. If it's warm enough to sunbathe after doing a few laps, then even better!
Start or join a running club
Let's face it - running or walking on a treadmill for half an hour in a gym can be mundane. Running clubs are great because you get encouragement and motivation from others, which means it is more difficult to get stuck in a fitness rut. There are plenty of running clubs already established or, if you've got some like-minded friends, you can simply start your own. Just make sure you don't stop for a chat too often...
Do a wheelie
You might want to try your hand at a new skill as well as burning off some calories. Roller skating or skateboarding are great outdoor sports – although they do need some practice if you're a novice. Learning a new sport on wheels is never easy, but guaranteed to be fabulous fun. If these two sound a bit too daunting, then cycling is an easier option for those who want to make the most of the milder weather and get around a bit quicker.
Grab a racket
Tennis may conjure up thoughts of lazy summer afternoons spent eating strawberries and cream, but actually it's a perfect sport to improve all-round fitness. Outdoor courts can be rented for a small fee and then all you need is a racket, ball, and willing partner! A calorie burning exercise, tennis improves stamina and muscle tone as you hit the ball back to your opponent and run around the court.
Hit the water
Head to your nearest lake and hire a canoe or kayak. As well as enjoying beautiful surroundings, you'll be giving your upper body a great workout - burning calories and toning muscles. This is something most people would never consider doing during the winter months, so renting a canoe for an hour or so really makes a change from unimaginative workouts inside a gym. You might even get some inspiration for other areas of your life too!
Need a little motivation to get you out there? Why not hire a personal trainer or sign up to a bootcamp to help keep you firmly away from the sofa.