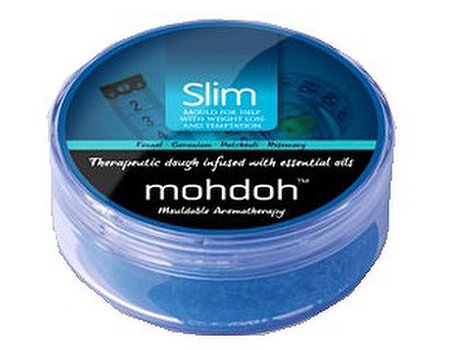 Ever felt like you need something to occupy your hands to avoid subconsciously reaching for the biscuit tin or cigarette packet? There are countless natural remedies claiming to suppress hunger and cravings or ease anxious woes with simply a whiff of fragrant aromatherapy oils. Mohdoh have gone one step further and designed a range of aromatherapy products with a twist – pliable coloured dough infused with oil blends. These are intended to be played with whenever you feel you need a pick me up.
There are eight different doughs in the range, each designed with a blend of oils suited to their own individual purpose, from relieving travel sickness to calming the mind. The range includes Slim, Quit, Unwind, Travel, Breathe, Think, Calm, Sleep and Headeez – everything you need to help you feel balanced once more.
The brand
Mohdoh was developed after the founder remembered how his mother would add lavender essence to his modelling clay to help him calm down, a remedy then used with his own children. From his desire for a way to help his two boys cope with everyday ailments without submitting them to the chemicals and dyes of conventional medicine, Mohdoh was born. Completely non toxic, the oils used are completely pure and natural, too. All the essential oils used in the collection are blended by aromatherapy specialist, Penny Price.
The product
I tested out the Slim mould from the Mohdoh range. Containing fennel, geranium, patchouli and rosemary to help curb those pesky cravings, the dough is a deep blue colour with a lovely scent. Surprisingly, the smell wasn't overwhelming and didn't linger for too long after the mould went back into the resealable container. The specially selected blue colour supposedly alleviates the anxiety associated with dieting and reduces appetite – I don't know whether the colour had any effect on my appetite, but it was vibrant and eye catching, which could have occupied my thoughts, keeping me away from any chocolate or cake which may have been near.
The result
Playing with the dough was very addictive, and definitely distracted me from any urges I had for a pre-lunch snack. I can see how it would work for a serial snacker who desperately needs a distraction on hand to reach for frequently throughout the day – for some reason, playing with the dough didn't get boring at all. A few times while playing with it I found my mind wandering and can see how useful it is to use it to take your mind off persistent thoughts. I would love to try the Sleep dough – as someone who finds it difficult to drift off at night, the mould with relaxing oils to help you wind down sounds just up my street.
Interested in the benefits of natural treatments? Check out some great aromatherapy and hypnotherapy information and offers.